Gemstones - Quartz (Amethyst, Citrine, Included, Rutilated, etc.)
14.62ct Barion Shield Amethyst, origin is the Congo. Faceted in the U.S. Purple with hints of blue. Measures approx 17.0x14.4mm (afgm-19-01f) $975
A Blue Flash Amethyst weighing 8.61ct and measuring approximately 12mm - faceted by the owner of All That Glitters. Think glowing blue purple velvet, which is the norm for this hand selected rough when we can find it! Perfect size for a man or woman's ring and no problem for a pendant either. Some small inclusions that can be see under the right light and angle on the outside edge - in the video and photo, it under the bottom facets. (afgm-19-01z)

SOLD!
15.49ct Fancy Kite Blue Flash Amethyst, U.S. Cut from All That Glitters rough. Difficult to capture the true color or brilliance. Think of a very rich velvety purple with blue highlights under fluorescent lights. This material/rough/facet gems has been typical of this material, a darker gemstone with flashes of red, pink, purple and blue depending on the lights and wavelengths available. You have our Satisfaction Guarantee if for some reason this is not for you. (afgm-19-01e) $60/ct
A very deep velvety purple Amethyst (13.92ct) with blue overtones/highlights, you will get more flashes of color at times vs. brilliance due to the saturation. One usually has to look for finely colored Amethyst as the colors can be almost clear, to the Rose de France to a more commerical quality purple, but this goes to the entirely opposite scheme, being both very rich and dark. Difficult to photograph as the camera essentially sees a deep glowing blue without any purple; the eye sees the purple but with the blue flashes/overtones as noted. Some may feel this is overly dark, but for someone who wants something unusual in Amethyst, as well as a perfect shape for a ring and especially a pendant, this would work nicely. This is one of those few gemstones that due to the fact it is difficult to photograph (and recently a few of our Ametrines have been difficult to photograph to show it accurately as far as color, etc.), seeing it in person is really the thing to do. As always, if you make a purchase from All That Glitters and you are not happy in any way, you have our two wonderful return policies. Ideally, we wish that people would request a purchase/viewing of gemstones in person as that is really the only way one will see the true color, the mirror-like polish, the internal brilliance of the gemstone as it is moved/tilted, etc. (22.1x15.3x10.6mm) (afgm-19-01c) $67/ct
Not commonly seen, this uniquely shaped (diamond, lozenge or parallogram) 15.97ct Amethyst, can be set in a few different ways, making a unique piece of jewelry, whether a ring or a pendant. Due to size, most would prefer it as a pendant or pin. Others might be more inclinded to even add it to their collection due to shape, cutting/polish or the color. Faceted by one of our cutters from rough obtained in Africa, the color is a deep purple with highlights of blue, pink or red at times. (afgm-19-01b) $60/ct
Large 16.16ct Amethyst, U.S. Faceted, in a interesting kite shape. Color is a deep glowing purple with blue highlights depending on the wavelengths in the light. A darker gem, but it catches the light and sparkles depending on angle. (afgm-19-01a) $75/ct
3 Included Quartz weighing a total of 45.07cts. Beautiful crystal inclusions, some in clusters, in green, white and tan. (ddkbb-19-01p) For a Fast Sale - $350 (Great price for all three!)
Clear Quartz with what is believed to be a Star Actinolite. This was occasionally seen on the market about 10 years ago and quickly disappeared as this wasn't a large deposit. Found a parcel and we choose the two nicest for clarity, nice stars/sprays of the Actinolite.
58.40ct (lss-19-02a) $584
A
B
A - 13.10ct Included Quartz with a glowing orange stripe - Galilea, Brasil (lss-19-01b) $310
B - 17.72ct Included Quartz with a mix of at least three different mineral species. (Minas Gerais, Brasil) (csms-19-02) $375
A
B
A - 29.15ct Included Quartz from Galilea, Brazil. Wonderful mix of dendrites, color and even an area that seems to glow and looks like schiller of some sort. (lss-19-01a) $410
B - 31.60ct Included Quartz with a wonderful geometric pattern above a field of gold. (Malacacheta, Brasil) (lss-19-04) $349
A
B
A - 34.85ct Included Quartz with what is believed to be a spray of Green Chlorite. (Madagascar) (mnrk-19-01b) $349
B - 49.43ct Included Quartz with fine black Tourmaline needles above an earth-tone background. (Minas Gerais, Brasil) (csms-19-01) $325
A
B
A - 80.85ct Included Quartz with bright orangy red swirls as well as a whitish mineral running at a slight angle within the colored section. (Madagascar) (mnrk-19-01c) $425
B - 108.20ct Included Quartz with needles along with approximately three other distinct minerals. (Madagascar) (mnrk-19-01a) $775

SOLD!

$775
118.30 Included Quartz consisting of what appears to be two black Tourmaline needles which traverse the gemstone at two sharp angles. Contains dendrites, needles and color! Great natural geometric pattern along with numerous minerals make this piece not only interesting, but beautiful. (Galilea, Brasil) (lss-19-05) $470
Large 130+ct Quartz cab with reddish brown multi-branched needles. A beautiful interesting piece that is far better in person. (rstvns-17-02) $1,300 Click on the above image to view a closeup of the needles...
Large 485+ct Clear Brasilian Quartz with numerous well-defined Green Epidote Crystals. This material is available in smaller sizes out there on the market, including in All That Glitters inventory, but to have such a large water clear piece with transparent green crystals, is very uncommon. (The price per carat for smaller pieces is far higher than the price per carat of this piece - to be marked at the same price per carat would mean this piece would have a price tag of just under $3,500 - and that price could be more of the expected price if one were to find a similar one for sale.) Great for display in a curio cabinet or as a paperweight. (mpnto-17-01) $1,455 (Only $3/ct!) Measures approximately 75x35x26mm (about 3" long!) Click on the above image to view a closeup of the needles...
A real rarity: In walking around Tucson and telling dealers/gemologists about a faceted Amethyst from Morocco with an enhydro, people were not only surprised to hear that an Amethyst with water/gas existed, but even more surprised to hear that it was faceted, as well as from Morocco! Even the owner of All That Glitters hadn't heard of Amethyst coming from Morocco, but it does - and some of the colors are really fine, including this fine piece with a rare enhydro just under the table. Normally one seeks inclusions that are not eye visible, but some gemstones/minerals might be purchased because of their inclusion(s)! This rarity displays a hidden treasure within, as witnessed by the photo or with a low power loupe/magnifying glass - and for those with decent vision, one can readily see what all the talk is about! What one notices when viewing this gem, is that the color is purple with blue overtones (a fine color), and that there seems to be something just below the center of the table. When viewed closely, it is an enhydro inclusion! The bubble actually has a very good traveling distance when tilted. We did have another one of the same size but it was a polished point with an enhydro. That quickly sold for $2,300 in Tucson (2015). Though we feel this is a nicer piece all around, and the fact that it is a published piece in Gems & Gemology, the price of $3,000 seems very reasonable for such a unique and published gemstone! This is a fairly large gem weighing 15.53cts and because it is a trilliant, it looks larger than 15cts. (ggc-15-01)



This gemstone was studied by GIA appears in the Fall Edition of GIA's Gems & Gemology Magazine (2016)!

View the GIA article as well as see photos:
Large Aqueous Primary Fluid Inclusion in Amethyst


52.35ct Quartz with Ankangite and Celsian from the Curvelo area of Brasil. For a larger image of the inclusions, click on the photo.
(mcv-15b-03) $525
46.95ct Quartz with Iron Oxides and Pyroclase from the Galilea area of Brasil. For a larger image of the inclusions, click on the photo.
(mcv-15b-01) $469
42.25ct Quartz with Pyrite Crystals from the Aracuai area of Brasil. For a larger image of the inclusions, click on the photo.
(mcv-15b-02) $425
A 49.80ct Quartz Cab with needles of Jamesonite from the Cuvelo area of Brasil. Click on the left image for a more detailed photo. (mcv-15a-01) $1,494
A wonderful large 61.45ct Quartz showing both Goethite, Hematite (beetle legs!), zoning, and distinct crystal grown patterns. This piece has all the interesting features that Quartz can have! (cadgem-15-01) $1,536
3.56ct Pear Shaped Amethyst. Medium purple. Great for a ring or pendant. $175
6.60cts total weight of Amethyst; would say that this is border line Rose-de-France Amethyst, perhaps slightly better. An old parcel from decades ago. $85 including Shipping and Insurance. Note - U.S. Shipping Only; Inquire for International Shipping.
7cts Total Weight of 4 Peaks ARIZONA(!) Amethyst - yes, from the United States! Each measures about 10x8mm and have a wonderful blue component to the deep purple. (bgtc-14-01) $100/ct

Wikipedia

: Four Peaks (Yavapai) is a prominent landmark on the eastern skyline of Phoenix. Part of the Mazatzal Mountains, it is located in the Tonto National Forest 40 miles (64 km) east-northeast of Phoenix, in the 61,074-acre (247.16 km2) Four Peaks Wilderness. On rare occasions, Four Peaks offers much of the Phoenix metro area a view of snow covered peaks, and is the highest point in Maricopa County.


Four Peaks contains an amethyst mine that produces top grade amethyst.
5.88ct Fancy Shaped Star Rutile in Crystal Clear Quartz. (vst-14b-02) $125
32.26ct Cabbed Crystal Clear Quartz with Lodalite and other inclusion including a wonderful two-tiered crystal of Pyrite. Lots to see inside with a loupe or microscope! (vst-14b-01b) $968
39.67ct Cabbed Crystal Clear Quartz with Lodalite and other inclusions. Believe that we saw some small Pyrite Crystals inside too! Lots to see inside with a loupe or microscope! (vst-14b-01d) $1,190
It doesn't get much better for Included Quartz! Look at the spray of crystals inside this Water Clear Quartz fancy shaped cab. One can spend hours looking at the internal world in this piece, using a simple hand held lense/loupe or microscope. Included Quartz with interesting inclusions are not all that common and prices for fine specimens like this have been increasing in value. We sold a super piece last year for $1300, and this one, though slightly different, is just as good! This piece weighs 31.34cts and one can get an idea of the size with the fingers holding the piece over white paper. (vst-14b-01c) $1,300
Fine Herkimer Diamond Cluster
Click on the above photo for a larger image
When a fine specimen like this is discovered in a collection, one has to try to purchase it. Took some negotiations and lots of thought on the sellers side... Don't see many of these in such a nice cluster/formation, clear, large, etc. Collected in the 1980s - Quartz, Var. Herkimer Diamond, Ace of Diamond Mines, Middleville, Herkimer Co., New York. Measures about 2.5" on one side. Nice curve, sort of looks like a question mark. Nice typical Herkimer inclusions. Seven crystals make up this piece - mostly water clear as you can see, with the beautiful contrasting inclusions. The second largest crystal seems to have a hint of color when on a white surface. (tcc-16-01) $2,700 (We have seen another cluster at a mineral show with fewer crystals, not as clear as these, not as sharp or as well-defined but with a price tag was $3,600! For the size, the clarity, the shape, the inclusions, etc. this has got to be a very good buy for such a unique piece!)
Click here to view more detail!
This is a very complex and busy Included Quartz weighing 14.07cts. There are multi-layers of Pyrite cubes that can be seen in the left hand photo, and a more detailed photo is available in the right hand column for viewing should one click on the link. There is another interesting mineral at about 9 o'clock. We haven't looked closer at this crystal but it looks as if it could be feldspar or another Pyrite possibly replaced by another mineral. (vst-14b-01a) $700
We were very fortunate to visit with our associates living in Madagascar and we selected three wonderful examples of Fluorite Crystals in Water Clear Quartz! These few hand picked pieces are outstanding aesthetically - as most of this material looks nothing like this. Since these are larger gemstones, we were able to obtain very good photographs showing the Blue Flourite Crystals within the Quartz. Enjoy!
7.49cts (xgxc-14b-01a) $449
17.68ct Quartz with Rutile Needles and Lodolite, Bahia, Brasil 20.3 x 15.15 x 7mm (gaimus-13a-01) $530
20.60ct Quartz with Cacoxenite inclusions, Curvelo, Minas Gerais, Brasil 36.85 x 19.15 x 4.85mm (gaimus-13a-02) $618
22.65ct Quartz with Lodolite/Rutile inclusions, Jac˙, Coronel Murta, Minas Gerais, Brasil 25.35 x 18.8 x 5.8mm (gaimus-13a-03) $679
A
B
A - 32ct Rutilated Quartz (vst-13a-02) $150 including shipping and insurance. Note - U.S. Shipping Only; Inquire for International Shipping. (From top to bottom, this piece measures 27mm; the bottom measures 28mm!)
B - 26+ct Rutilated Quartz (hel-13-01) $125 including shipping and insurance. Note - U.S. Shipping Only; Inquire for International Shipping.
Note that both show a wonderful sheen up and down the length of the needles when they are tipped. Should a person wish to own both, $250 including shipping and insurance! Note - U.S. Shipping Only; Inquire for International Shipping.
Quartz with Pyrite Inclusions (Brasil) - Hand Chosen from a lot for their aesthetics

Unique pieces showing various shapes of Pryite, variations of gold color and many show what looks like gold foil that has been crumpled - very unique and unusual as well as fascinating to look at under a magnifying glass, loupe or microscrope. Nature is fascinating and one never knows what one will find!
6.50ct Emerald Shape Cab (vst-13a-01a) $98
11.91ct Square Cushion Cab (vst-13a-01b) $155
19.29ct Elongated Cushion Cab ( (vst-13a-01c) $193
22.42ct Oval Cab ( (vst-13a-01d) $225
26.78ct Hexagonal faceted (vst-13a-01e) $269
43.11ct Elongated Cab/Faceted piece (vst-13a-01f) $325
We have seen an article written on this material in

Gems and Gemology Magazine (GIA)

but hadn't seen this in person. One of our decades old contacts from the Afghanistan/Pakistan area had several pieces to show us. We chose the best of the small parcel, which showed a double crystal with another small crystal evident - a real beauty to behold. These naturally occuring crystals actually contain an

oil-like substance

and as one moves the crystal, one can see the oil moving as well as bubbles/gas contained within. The oil/petroluem will fluoresce under ultraviolet lights! This is another Rare Find that was brought to light and soon disappeared due to Rarity, not to be seen again? For an estimate of size, the crystals measures about 1.5 inches in length. This is an exceptional and large example of this naturally occurring oddity. Locality is Wadh (town in the Khuzdar District of Balochistan, Pakistan). We found a video online that shows the Blue Glow of this oil under UV Light : Video
56+cts (rms-12-01a) $1,100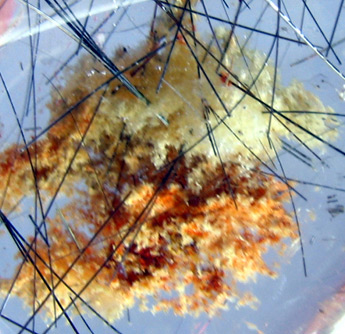 147.80ct Brasilian Quartz with multiple fancy inclusions, including black Tourmaline needles! $10 per carat - a super large fine specimen! (jtcpo-11-01) $1,478
75carats of faceted Smoky Quartz from the famous Ossipee, NH locality $750 (35 faceted gemstones) (Only $10 per carat!)
Natural Brandy Colored Citrine - Believed to be from an American locality
The medium brandy colored Citrine below (5 pieces) is natural Citrine. No treatment has been performed to modify the color. Almost all Citrines are heated amethyst or ehhanced gemstones. This material has been in the owners family for perhaps longer than 60 years and was faceted out of one piece of rough. The original gemstone faceted, along with the remaining rough from which these were faceted, was sent to John Koivula for study. Mr. Koivula is well known in the gemstone trade, and at that time, was employed by GIA. His conclusion was that this material was untreated, natural citrine, much to his surprise as the natural material is rarely seen in nature. A few of the larger pieces were specifically faceted to leave a few lines of natural blue zoning. Heating this material would have removed the zoning. This is another indication that it is natural and we specifically requested the zoning be left in when being faceted. This is all the material we have and these family heirlooms are up for sale. In over 32 years in the business, the owner of All That Glittters has never held back sales of any gemstone in its extensive inventory, even though many of the gemstones sold are rare and seldom seen in the gemstone trade.
13.57ct Lazy Pear Natural Citrine, Concave Faceted (plno-07-01p) $1,018
A
B
16.00ct Pear Shaped Natural Citrine with faceted top (plno-07-01p) $975 Near the rounded tip, there is a straight blue zoning line - this is what helped to determine that it was Natural Citrine and not heated amethyst. When this is seen directly overhead, it is a sharp line; when off angle (as in the above picture) it is more diffused. It can be seen by the unaided eye, but this is something more desirable vs. being a negative.
18.82ct Pear Shaped Natural Citrine Concave Faceted (plno-07-01p) $1,412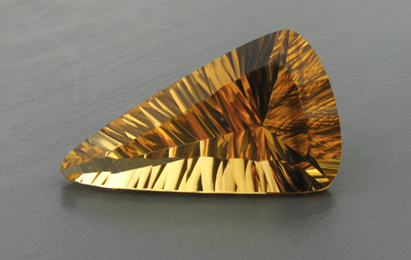 13.78ct Arrow Shaped Natural Citrine Concave Faceted (plno-07-01p) $1,034
54.42ct Oval and 4.27ct Oval - rough came from the Famous Cruzeiro Mine. Color is frequently called Ouro Verde (irradiated like most of the fancy colors once sees on the market); these two are a Very Vidid Lemon with a touch of Green. Very bright and lively. The smaller measures approx. 12x9mm and the large one is a whopping 29x21mm! We had these cut from the rough - the cost to facet large gemstones (even Quartz) is quite costly and therefore at the price per carat we are charging, the large piece is really worthwhile... $20 per carat for either gemstone - if you purchase both, Only $15/ct. (nevst-05-01bz)
Calibrated Amethyst - 7x5mm - 40pcs - 29+cts $290
A
B
A - 5 pieces weighing 8.56cts of light yellow Quartz - $90
B - 21.55ct Deep Honey Quartz - $239
2 pieces totalling 10.14cts of Topaz-looking Quartz - $760 As seen in Cedar WIngs Magazine - Cedar Wings Article
Like most of the fancy colors being seen on the market for the past few decades, this color is enhanced in a similar way at times as blue topaz is.
11.07ct Green Quartz Concave Pear Green Quartz is typically heated Amethyst. (23.0x12.0x8.7mm) $1,660 (nev-01)
Also seen in Cedar Wings Magazine:
Cedar Wings Article
Featured in both a Book and Magazine!
33.25ct Deep Canary Yellow Quartz - Concave Faceting $1,995
As seen in Cedar WIngs Magazine - Cedar Wings Article
Like most of the fancy colors being seen on the market for the past few decades, this color is enhanced in a similar way at times as blue topaz is. This is only at $60 per carat for a gemstone that has been viewed by 100's of thousands of people on an on-board magazine...
11.05cts of Brasilian Amethyst - Concave Faceted Great for a ring, pendant, pin, etc. The photo does not do the trilliant justice as it has the best color of the three stones. $1,105
As seen in Cedar WIngs Magazine - Cedar Wings Article
Quartz Tri-Colors, Brasil

A
B
A - 21.37cts (vst-04e-05a) $1068
B - 24.75cts (vst-04e-05b) $1237

(only $50/carat for this mineral oddities!)

Note - It is rare to find amethyt bicolors. The most commonly know version is Ametrine, but this material, amethyst and clear quartz is VERY rare. The crystal has to grown this way, has to be free of inclusions, milkiness, etc. and that in itself is rare. What is even more rare in these two pieces is that both seem to be TRI-COLORS! Prior to the past few months, we have never seen any of this material before in over 20 years. We haven seen a few poor, small examples, but nothing of fine quality like these! We do have two Amethyst Bicolors which are Amethyst/Clear Quartz and can be found on our Miscellaneous Photos page, and we do have some very fine deeply colored Ametrine (see our Ametrine Photos Page), but nothing like these unique Tri-Colors. We recommend grabbing them while they are available now. If we haven't see something like this in all of our 20+ years in the business, then this form of quartz must be special - so special, if we can find out exactly where in Brasil they came from, we will be flying down there to purchase whatever is available! Comments from the person who purchased the first two pieces of Tri-Colored Quartz we encountered: "The tri-colored quartzes were exquisite and will be treasured parts of my collection. This is rare material, but I can always expect the unexpected from you... and it being top quality on top of that! Thanks again" JH Grapevine, TX (serious gem quartz collector)
2.44ct Bicolor Amethyst (Amethyst/Clear) Unique AND a Wonderful Inclusion too! (vista-04a-02) $305
20.52ct Emerald Cut Clear Quartz with Pyrite Inclusion (Brasil) (vst-04d-09b) $425
Note - the quartz with pyrites are very collectable in their natural crystal form or faceted. It is difficult to find water clear quartz together with these pyrite inclusions. Wonderful for a collection or even set as a ring, pendant, etc.
21.18ct Smoky Quartz with Rutile Needles(Hand Selected) - $148 (mcm-92-01p)
8.42ct Quartz with Rutile needles(large) - crystal clear, also unusual/unique - $632 (sbg-10)
A
B
A - 3.30ct Oval Rio Grande do Sul Citrine, a reddish orange! (lsb-02-03) $182
B - 6.37ct Synthetic Quartz Bicolor (Yellow-Green), Rare and Unique $191 (minco-95-01p)
A
B
A - 61.08ct faceted quartz with primary fluid inclusions and a white feldspar cluster. (mad-03-01d) $1,525 Examined and ID'd by GIA's Gem Trade Lab
B - 101.56ct, Faceted Freeform Quartz with epidote cluster (mad-03-01a) $700 Examined and ID'd by GIA's Gem Trade Lab
Note: Magnification and bright lighting is required to photograph gemstones. Some inclusions may be visible under these circumstances. You are viewing photographs as if you were using a loupe or microscope - not your unaided eye. Under normal conditions, these inclusions may not be visible.
Not responsible for mismatches of prices, photos, stocknumbers, etc.
<! code to insert on Photos Pages and others, where one wants the Payment Info/Intent to Purchase Form to appear -->
Buy Now Using the Following Options:
We continue to utilize Personal and Bank Checks, Square, popmoney, Wise, Wire Transfers and other services/applications. We are always seeking additional options which would be reliable, safe and user friendly.

Contact us via Phone, Email or use our Intent To Purchase Form to discuss payment. Square, Popmoney and Wise links are below. Square is similar to PayPal, but an account is not required; Popmoney is bank/bank, account to account; Wise (formerly Transferwise) is typically for International Transactions/Foregin Currency but also works within the United States.

NOTE - For those who must utilize PayPal, we can provide an invoice or have funds sent to a PayPal account we have access to. There will be a 3% charge for this service, which PayPal charges - regardless of whether the item is returned. This is PayPal's mandate as of October 2019 - the only payment application that we are aware of that will not return their fee if an item is returned. We no longer offer PayPal as a standard payment option...

Purchase using Square:
Learn More by clicking on the logo!  
Purchase using Popmoney:
Learn More by clicking on the logo!  
Purchase using Wise:
Learn More by clicking on the logo!  

For purchases using another form of payment, please use our
Intent to Purchase Form.
You may also telephone or send an email: Contact All That Glitters