Photos - Jewelry
Get in on the Ground Floor as they say!....


We have two beautiful rings in creation - both center stones are Sapphire and will be surrounded by other colored Sapphires and/or Diamonds. See the descriptions and CAD/CAM renderings below. We anticipate them being ready in about a month - end of April(?). If you are interested in either piece, feel free to email us and make an inquiry as to the anticipated price. These are beautiful rings for every day wear or can be used as engagement rings - matching wedding bands to each piece should be available if desired.
Both center gemstones came directly from the All That Glitters Inventory!

Padparadscha Sapphire (GIA Certed)
Montana Sapphire
Certed Padparadscha Sapphire, Approx 7x5mm, Oval, GIA Certed, weighs 0.98cts
Surrounded by 18 Round Diamonds - SI/G-H (color/clarity)
Center Rows - Matching colored Sapphires to the Pad, total of 18 pieces
Other Sapphires are deep glowing blue, 46 pieces in total
Set in 18kt White Gold, Rhodium Plated
Note - colors are not accurate as this is only a CAD/CAM rendering of the piece
(Extra Pad-Colored and Blue Sapphire will accompany the piece)
Blue Montana Sapphire, Approx 5.2mm, Round, U.S. Faceted, weighs approx 1 carat
Flanked on the left and right side of the center Sapphire are 8 White Sapphires
All other melee consist of Blue Sapphire matching the center Sapphire; a total of 142 pieces
Set in 18kt White Gold, Rhodium Plated
Note - colors are not accurate as this is only a CAD/CAM rendering of the piece
(Extra White and Blue Sapphire will accompany the piece)
"Fall in New England", Inspired by the Changing Leaves and the Masterful Color Display in Nature.

A Collaboration in Gems, Design, Precious Metal: All That Glitters/Katzenbach Designs



4.30ct Flame Shaped Red-Orange Topaz, Ouro Preto (Minas Gerais, Brasil); AGTA - N


(Topaz includes variations of Orange, Red, Peach and Melon and is
Accented/Enhanced by the Autumnal Colors of the Sapphire Suite)

131 Round Red/Orange/Yellow Sapphire Suite weighing a total of 3.27cts; ATGA - H

18kt Royal Yellow Gold

Multi-Wire 14kt Yellow Gold Choker, Created by Hand and with a 14kt Barrel Clasp.
(14kt will wear better than 18kt and not bend as easily)
(Choker may be easily removed from the pendant if desired;
comes with an 18" Black Leather Cord with 14kt Lobster Claw Clasp)

One of the many entries into the

AGTA Spectrum Awards Contest - 2018

!

Price Available Upon Request


Wide Shot Showing Custom Chain
CAD-CAM Early Rendering
CAD-CAM Later Rendering
CAD-CAM Rendition - Side View Showing Tiers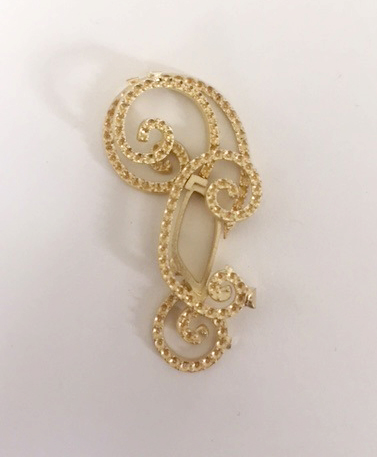 Completed Casting Ready for Gem Setting
"Fall in New England", Inspired by the Changing Leaves and the Masterful Color Display in Nature.

A Collaboration in Gems, Design, Precious Metal: All That Glitters/Katzenbach Designs



4.30ct Flame Shaped Red-Orange Topaz, Ouro Preto (Minas Gerais, Brasil); AGTA - N


(Topaz includes variations of Orange, Red, Peach and Melon and is
Accented/Enhanced by the Autumnal Colors of the Sapphire Suite)

131 Round Red/Orange/Yellow Sapphire Suite weighing a total of 3.27cts; ATGA - H

18kt Royal Yellow Gold

Multi-Wire 14kt Yellow Gold Choker, Created by Hand and with a 14kt Barrel Clasp.
(14kt will wear better than 18kt and not bend as easily)
(Choker may be easily removed from the pendant if desired;
comes with an 18" Black Leather Cord with 14kt Lobster Claw Clasp)

One of the many entries into the

AGTA Spectrum Awards Contest - 2018

!

Price Available Upon Request


Wide Shot Showing Custom Chain
CAD-CAM Early Rendering
CAD-CAM Later Rendering
CAD-CAM Rendition - Side View Showing Tiers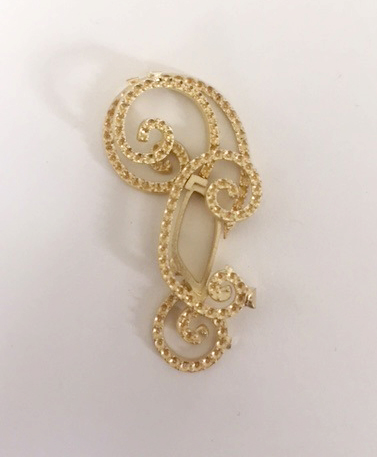 Completed Casting Ready for Gem Setting
Diamond Engagement Ring, approx 65pts, VS, H-I, estimated due to being set in Platinum/Iridium Ring, flanked by Tapered Diamond Baquettes weighing approx 15pts in total and of the same clarity/color. We decided we would have this certed and appraised before being offered for sale. The image displayed here is a scanned image from the actual cert. $3,500
View Cert & Appraisal
10 Pairs for ONLY $100 - Including Shipping and Insurance!

(Think Holidays and Gift Giving)



Save approx $180 off retail prices seen

We have the styles shown below, as well as a few other styles, all in limited quantity. We cannot guarantee any particular style - will be a mix with possibly some duplicates.

Alpaca 1

Alpaca 2

Alpaca 3

Alpaca 4

Alpaca 5

Alpaca 6

Alpaca 7

These Alpaca earrings consist of a metal similar to silver. They tarnish with time and yet can be cleaned easily with soap. The inlay is abalone, mussel, colored epoxy or epoxy with turquoise (blue colored inlay as seen in the photos). Since this is natural shell, there is a beautiful mother of pearl look to these and a rainbow of color is displayed. The actual size of the earrings is slightly less than that displayed if your browser fills your computer screen. They are not heavy to wear and the kidney wires are surgical steel for those who might have an allery to other types of metals. We purchased a large quantity some time ago when we were considering opening up kiosks in area malls. We have sold these items at shows and

have seen them selling in malls or shops for $28 each

. These items would be great for those looking for gifts, selling items in stores, fleamarkets, via the internet, etc.
Large Slice of Dendritic Agate set in a Sterling Silver Pendant - with chain (stamped 925). We have seen pieces like this Dendritic Agate in Tucson of similar size and quality wholesaling for up to $500 or more. When the quality of this piece was seen, along with it already set into a sterling silver frame and figaro chain....we had to have it! (qent-11-01) $425 Selling for hundreds below what one would expect....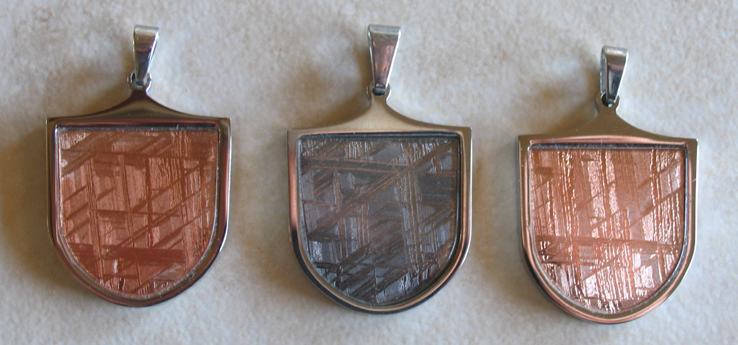 Back
Stainless Steel Pendants containing slices of the Gibeon Meterorite (Africa). The two reddish pieces above have been Rose Gold Plated and the silver colored one is Silver Plated. On the back is stamped Gibeon Meteorite. Any piece is

$175 and INCLUDES postage

via USPS Priority Box (insured) within the United States. (tms-13-02p)
So what is the Gibeon Meteorite? Read about it in Wikipedia - Gibeon Meteorite
We had to have these when we went through a large lot, as these pieces reminded us of stormy clouds or even formations in distant galaxies making these unique pieces Picture Chalcedony. We have done some close-up photography and created Giclèe Museum Quality Canvas Prints to go with each of these pieces. Each canvas print is 12x9 inches, has a UV Coating so it will not fade in light and is stretched on 3/4" stretcher bars. These can be easily framed or just hung on the wall as is. Not only can you own and wear these items, but you have have a quality image to hang. What is a Giclèe? Click on the following link: Giclèe
A
B
C
A - Chalcedony Bead (amc-12-01c) $350 Price includes a 12x9 inch High Quality, UV Protected, Giclèe Canvas on stretcher bars. Giclèe Image
B - Chalcedony Silver Pendant (amc-12-01a) $350 Price includes a 12x9 inch High Quality, UV Protected, Giclèe Canvas on stretcher bars. Giclèe Image
C - Chalcedony Silver Pendant (amc-12-01b) $350 Price includes a 12x9 inch High Quality, UV Protected, Giclèe Canvas on stretcher bars. Giclèe Image
Shipping for each giclee is a flat fee of $40 - U.S. ONLY. All That Glitters will pay shipping costs over $40!
Contact us for a PayPal Invoice so we can correct the shipping/insurance fee for you.
An interesting bracelet purchased from one of the hill tribes (see photo above - this is the actual woman who sold this piece). It is stamped Sterling in Chinese, but it is certainly not silver - many things are marked in China but the mark has no bearing on the actual true identity. This is an item that the woman would have purchased in a city, through barter, etc. In closer examination, this bracelet is related to the years of the Chinese calendar - looking quickly at the piece, one can see an ox, tiger, rabbit, dragon, serpent/snake, horse, goat(?), monkey rooster, etc. (htribe-11-01) $30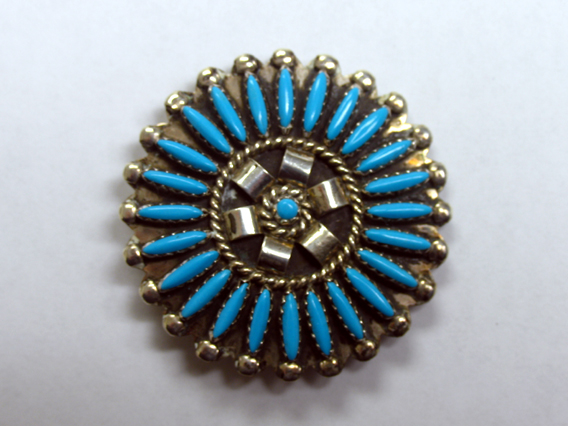 Sterling Silver with Turquoise, Zuni hand-made pin, signed by the maker - CJ. Measures about 2 inches across. A wonderful piece found in our vaults after about 20 or so years. $525 (Silver is up, the cost of workmanship is up, Turquoise is up, and CJ might no longer be working or even alive, and could be quite collectible!)
Closeup
4mm, 18", Sterling Silver Diamond Cut Rope Chain. A beauty and quite heavy, about 21grams. Found in our vault recently - purchased in the mid-80s. It glitters because of the diamond cutting! $80 (the original price from the 1980s!)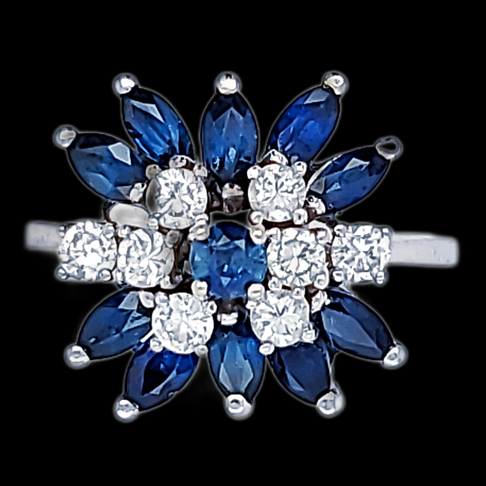 Stamped 14kt; Makers Hallmark Present; stemped Truebright also; early 1970s; white diamonds SI or better weighing approximately 1/2 ct total weight; estimated weight of Sapphires is 1-1/3cts total weight. $1,636
Stamped 14kt; Appears to be a custom piece due to the tooling marks in the back which were left from the goldsmith carving out the wax. Oval Pinkish Tourmaline measures approximately 11x9mm with approximately 1/3ct total weight of SI/white diamonds. Heavy gold. $2,200
(All That Glitters Creation) - from the 1980s, a Brasilian Tourmaline with a number of different colors of blue and green from a buying trip in Brasil back in the 1980s. Tourmaline measures approximately 11x9mm. Approx 4.5mm Trillion Diamonds (approx 60+pts) of SI Clarity and approx G/H in Color. Simply an incredible piece! $6,210 (Fine Tourmaline and Diamonds have gone up dramatically, never mind the price of gold - this is also a custom piece!)
(All That Glitters Creation) - 1990s. Blue Zircon measuring 8x6mm. Total weight of SI/White Diamonds approximately 1/3ct total weight. $1,100
(All That Glitters Creation) - early 90s; Fine Paudarco Amethyst (dark, but one can see the color in person - photo is not the best), with approximately 4pts of diamonds in an interesting setting. Paudarco is not common and this gem was brought back from our trips to Brasil back in the 80s. $785
Estate - Makers Hallmark Present; Should be 14kt. Unique design with Garnets. Speaks of Antique. Probably the 1940s or so. $786
Estate - Stamped 14kt; Makers Hallmark Present. Another unique design set with Garnets. Airy, light and very Antiquish! $661
A
B
A - Quartz with Rutile Bullet with custom 14kt yellow gold top/bale - $469 Note that there are a few more pieces available.
B - Rutilated Quartz Pendant with a Paudarco Amethyst, heavy 14kt gold - $1,479 (The above piece was designer for/by the owner of All That Glitters, but has never been worn . Only shown in a few shows and never offered for sale previously. Goldsmith said he wouldnt do another one as it was very time consuming and the gold content is very high! Believed to be quite heavy in gold...))
3.15ct Blue Topaz with 0.45ct Bright Pink Sapphires set in 14kt gold pendant - $395
Please contact us prior to purchase to insure that either of these pieces are available....

A
B
A - Simple, citrine earrings - prongs are folded over, no seats cut - $80
B - Round Blue Sapphires set in 14kt yellow gold buttercups - $175
Estate Piece - 0.97ct Blue Sapphire w/approx 0.75ct of very clean, white, nice diamonds, set in 14kt white gold; the white diamonds show up nicely. Note that the sapphire is a is a blue and is NOT as dark as pictured - $1,399 (our price 10 or so years ago.....)
Custom Designed, Hand-Made Sterling Silver with Rhodium Plate (No Tarnishing!) Set with All That Glitters Gemstones... Silver is the New Gold - with prices of gold being so high, silver is set to replace it in jewelry and price. The pieces below are all custom made, by hand, in sterling silver, and some are quite heavy. Silver, like gold, has been on the way up, hitting new highs. The time to buy, may be now.
A
B
A - Cripple Creek Picture Jasper from Eastern Oregon (hmc-08-01) $215
B - Owyhee Picture Jasper from Montana - Approx 35x32mm weighing 41.34cts (remc-06-01c) $280
A
B
A - 9.58ct Ocean Jasper from Madagascar (vst-04e-02) $182
B - Believed to be a Jasper Cab in Green and White $225
Obtained some info - and it is very interesting! Mookaite is a stunning multi coloured stone which is found in the Kennedy Ranges near Gascoyne Junction which is about 100 miles inland from the coastal town of Carnarvon in Western Australia. The name "mookaite" is derived from the locality where the rock is dug, namely Mooka Creek. Mookaite is actually a fossiliferous sedimentary rock & it is reasonably common to find cavities left by decomposed belemnite casts or in some rare cases , impressions of ammonites. This was found doing a quick search on Mookaite, but there is probably more information out there...
A
B
A - 13.03cts Mookaite from Australia (vst-05a-02c) $249
B - 14.4cts of Mookaite from Australia (vst-05a-02a,b) $256
What is Mookaite? Here is one definition found on line via a Google Search: Mookaite (sometimes spelled Mookite, or just called Mook Jasper) is a colorful Jasper from Western Australia. It is a warm flood of reds, yellows and browns. It is formed as a sediment in erosion zones and as a filler in cracks. In Australia, Mookaite is considered to be a healing stone that bestows strength. It is said to shield the wearer from difficult situations and to connect us to loved ones who have passed away. Mookaite is named for where is was first found ó in outcrops, principally on Mooka Station (a sheep farm of around 700,000 acres), on the west side of the Kennedy Range in Western Australia. According to locals, the Aboriginal word ìmookaî means ìrunning watersî, no doubt in reference to the many fresh water springs that feed Mooka Creek.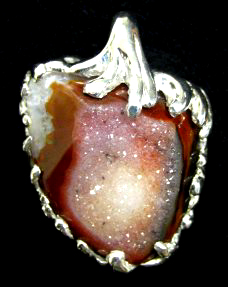 Agate Drusy (obg-07-01b) $349 (heavy silver!) Note the glittering crystals in the center !
Chosen from a very large lot for banding, color, sparkle, etc. The best of the best!
Agate Drusy (obg-07-01a) $256 Note the glittering crystals in the center !
Agate Drusy (obg-07-01c) $286 Note the glittering crystals in the center surrounded by a bright red rim!
Agate Druzy (obg-07-01e) $260 Note the glittering crystals in the center! Nice design under brighter lights...
64.18ct Deep Lemon Citrine Concave Faceted! (nevst-05-01bp) Photos shows both the unset and set gemstone. $325
66.17ct Deep Lemon Citrine Concave Faceted! (nevst-05-01bp) Photos shows both the unset and set gemstone. $345
A
B
Honey Colored Quartz, slightly sleepy, but interesting color. Average weight is 21+cts (nevst-05-01a) $185 each
A
B
A - 42.86ct Concave faceted Lemon Quartz (nevst-05-01bp) $262
B - 18.76ct Facet Cut Lemon Quartz (nevst-05-01bp) $179

A photo of the two above set stones before they became pendants!
26.98ct Oval Topaz Colored Quartz $286
A
B
A - Fossilzed Coral Earrings (hmc-08-02a) $259
B - Fossilzed Coral Earrings (hmc-08-02b) $259
Unique Agate resembling an eye! $229
A
B
C
A - Ouro Preto Doubly Terminated Topaz Crystal $159
B - Ouro Preto Doubly Terminated Topaz Crystal $159
C - Ouro Preto Doubly Terminated Topaz Crystal $159
| | |
| --- | --- |
| | |
| Ouro Preto Doubly Terminated Topaz Crystal - VERY heavy silver with the back enclosed! $229 | Ouro Preto Doubly Terminated Topaz Crystal $185 |
Fine specimen of Rainbow Obsidian in a fancy shape Approx 33cts (tdw-07-01e) (Strong light is required to see the peacock-like colors of this material - photo shows piece lit with light and no light.) $287
Fresh Water Pearl Necklaces with Onyx, Aventurine (Green Quartz), Garnet, Hematite, Rose Quartz or Onyx
These Fresh Water Pearl Necklaces are 24 inches long and contain either all Fresh Water Pearls or Onyx, Aventurine (Green Quartz), Garnet, Hematite, Rose Quartz or Onyx along with the Fresh Water Pearls. The necklaces can be worn as a 24" necklace or as a 17" necklace AND a 7" bracelet. That's right! There are two clasps that allow the wearer to either have a long necklace or a choker together with a matching bracelet! The gold is 22-24kt overlay. They are strung on what seems to be multi-threaded silk. With care, they should last for years.

***** $30 each or 2 for $50 *****

Currently have one Rose Quartz necklace left. The only remaining necklaces in quanitity are the Onyx.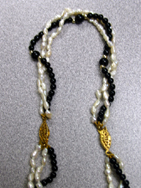 Fresh Water Pearl/Hematite Necklace
Note: Magnification and bright lighting is required to photograph gemstones. Some inclusions may be visible under these circumstances. You are viewing photographs as if you were using a loupe - not your unaided eye. Under normal conditions, these inclusions may not be visible.
Not responsible for mismatches of prices, photos, stocknumbers, etc.
Buy Now using your PayPal account:

Purchase using popmoney:
Learn More by clicking on the logo!
Purchase using Transferwise:
Learn More by clicking on the logo!
For purchases using another form of payment, please use our Intent to Purchase Form.
You may also telephone or send an email.