Gemstones - Imperial and Precious Topaz
All the Imperial/Precious Topaz below is from the world famous Ouro Preto Mine in Minas Gerais, Brasil.
When the owner of All That Glitters saw this Topaz, it was a must have for inventory. This 3.86ct Cushion comes from the famous Ouro Preto Imperial Topaz deposit in Minas Gerais, Brasil. While traveling in Brasil in the past, the owner of All That Glitters visited Ouro Preto more than once and also had a tour of the gold mine over in the adjacent town of Mariana. This particuar Topaz has numerous colors including pink, orange, salmon, etc. There are a few fine needles deep in the gemstone and this is an indication that the color is natural and not heated. Some of the Topaz here will be heated to obtain a pink color. In this case, it was decided to leave it entirely natural and with the lovely color as it came out of the ground, there was really no need to consider enhancement of any kind. A fine color, large, brilliant, natural Topaz, it is a pleasure to view this piece for those who like this color and appreciate a fine Topaz. The color has a Padparadscha feel to it and is not the typical yellow or orangy color typically found - that being said, even a nice orange is not common, especially in larger sizes. (ramcam-19-02) $6,562
"Fall in New England", Inspired by the Changing Leaves and the Masterful Color Display in Nature.

A Collaboration in Gems, Design, Precious Metal: All That Glitters/Katzenbach Designs



4.30ct Flame Shaped Red-Orange Topaz, Ouro Preto (Minas Gerais, Brasil); AGTA - N


(Topaz includes variations of Orange, Red, Peach and Melon and is
Accented/Enhanced by the Autumnal Colors of the Sapphire Suite)

131 Round Red/Orange/Yellow Sapphire Suite weighing a total of 3.27cts; ATGA - H

18kt Royal Yellow Gold

Multi-Wire 14kt Yellow Gold Choker, Created by Hand and with a 14kt Barrel Clasp.
(14kt will wear better than 18kt and not bend as easily)
(Choker may be easily removed from the pendant if desired;
comes with an 18" Black Leather Cord with 14kt Lobster Claw Clasp)

One of the many entries into the

AGTA Spectrum Awards Contest - 2018

!

Price Available Upon Request


AGTA 2018 Spectrum Awards Judging Card
Wide Shot Showing Custom Chain
CAD-CAM Early Rendering
CAD-CAM Later Rendering
CAD-CAM Rendition - Side View Showing Tiers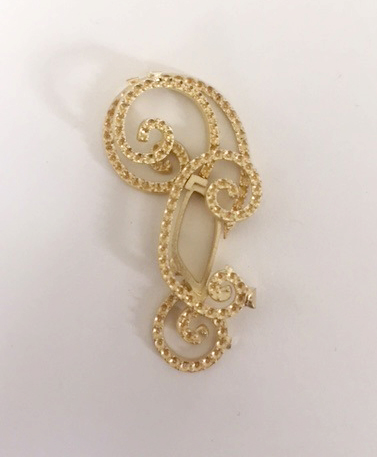 Completed Casting Ready for Gem Setting
This began as a 35+ct Ouro Preto (Minas, Gerais, Brasil) doubly terminated Topaz crystal. The resulting faceted gemstone weighs 5.46cts. Faceted by our newest cutter, who created the v-grooves by hand. Color is a light apricot or peach, with some darker variation depending on how the gemstone is oriented. (ewlap-15-01) $5,460
We posted this Topaz on Facebook to show off the color and cutting, and it was shared among a number of individuals as well as groups. The following are just a few comments: Awesome!; I see spun honey!!!; Gorgeous honey color; One of a kind... honeycomb full of honey.
Someone in the know will probably pick this up for their collection or a piece of jewelry - won't last long!
More Gems from the Vault - 30+ years old! Priced to Move at mid-1980s Pricing...
Topaz Parcel (Ouro Preto, Brasil) (gem-31-12) 2.59cts - $440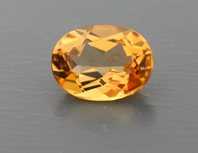 Imperial Topaz 1.39ct Oval (tpz-06-01) $278
A
B
A - 1.36ct Oval Imperial/Precious Topaz (ncco-91-02) $272
B - 1.59ct Pear Imperial/Precious Topaz (mvnk-89-02) $477
Note: Magnification and bright lighting is required to photograph gemstones. Some inclusions may be visible under these circumstances. You are viewing photographs as if you were using a loupe - not your unaided eye. Under normal conditions, these inclusions may not be visible.
Not responsible for mismatches of prices, photos, stocknumbers, etc.
Buy Now using your PayPal account:

Purchase using popmoney:
Learn More by clicking on the logo!
Purchase using Transferwise:
Learn More by clicking on the logo!
For purchases using another form of payment, please use our Intent to Purchase Form.
You may also telephone or send an email.