Gemstones - Imperial and Precious Topaz
All the Imperial/Precious Topaz below is from the world famous Ouro Preto Mine in Minas Gerais, Brasil. Other photos of these pieces are available upon request.
This began as a 35+ct Ouro Preto (Minas, Gerais, Brasil) doubly terminated Topaz crystal. The resulting faceted gemstone weighs 5.46cts. Faceted by our newest cutter, who created the v-grooves by hand. Color is a light apricot or peach, with some darker variation depending on how the gemstone is oriented. (ewlap-15-01) $4,641
We posted this Topaz on Facebook to show off the color and cutting, and it was shared among a number of individuals as well as groups. The following are just a few comments: Awesome!; I see spun honey!!!; Gorgeous honey color; One of a kind... honeycomb full of honey.
Someone in the know will probably pick this up for their collection or a piece of jewelry - won't last long!
More Gems from the Vault - 30+ years old! Priced to Move at mid-1980s Pricing...
Topaz Parcel (Ouro Preto, Brasil) (gem-31-12) 2.59cts - $440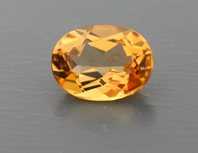 Imperial Topaz 1.39ct Oval (tpz-06-01) $278
A
B
A - 1.36ct Oval Imperial/Precious Topaz (ncco-91-02) $272
B - 1.59ct Pear Imperial/Precious Topaz (mvnk-89-02) $477
Note: Magnification and bright lighting is required to photograph gemstones. Some inclusions may be visible under these circumstances. You are viewing photographs as if you were using a loupe - not your unaided eye. Under normal conditions, these inclusions may not be visible.
Not responsible for mismatches of prices, photos, stocknumbers, etc.
Buy Now using your PayPal account:

Purchase using popmoney:
Learn More by clicking on the logo!
Purchase using Transferwise:
Learn More by clicking on the logo!
For purchases using another form of payment, please use our Intent to Purchase Form.
You may also telephone or send an email.