Other Items
Libyan Glass - Formation from Extraterrestrial Forces - Amazing Material Once again, the owner of All That Glitters has spent considerable time viewing and choosing unusual and unique items that can be found on our planet. In this case, natural glass found mysteriously in the deserts in the vicinity of Egypt. Libyan Desert Glass is a natural glass composed of nearly pure silica (98 wt %), the purest natural glass in the world, giving the the glass some remarkable properties. This particular glass can be heated to 1700° C before it begins to melt. This is over 500∞C higher than other natural glasses. It can be dropped into water when red hot and it will not disintegrate - wow, that is something! Some of this glass has inclusions such as bubbles as well as spheres of cristobalite (see our examples below) which forms in glass at high temperatures. The glass can be cloudy due to thousands of bubbles or gem quality. We have chosen the pieces below because of color, clarity, unique shapes, frosting, inclusions, etc. It is believed that Libyan Desert Glass was formed 29 million years ago, when an asteroid or comet hit the surface creating conditions similar to an atomic bomb, liquefying and creating plasma from the desert sand. One of King Tutankhamunís jeweled breastplates contained a carved scarab which was recently believe to be a piece of this unique glass. It was later determined to be made of Libyan Desert Glass, which makes sense since this material was probably traded and coveted for it's beauty and mysterious nature. The meteorite crater that is believed to have created this glass is thought to have been discovered.
A
B
A - Libyan Glass, a fine example of this material 145.45CTS (vk-10-01a) $80
B - Libyan Glass, great color and shape, with some pebbles attached 65.20CTS (vk10-01b) $100
A
B
A - Libyan Glass, nice naturally frosted piece with good shape 75.95CTS (vk-10-01c) $80
B - Libyan Glass , large piece, chunky 460.20CTS (vk-10-01d) $100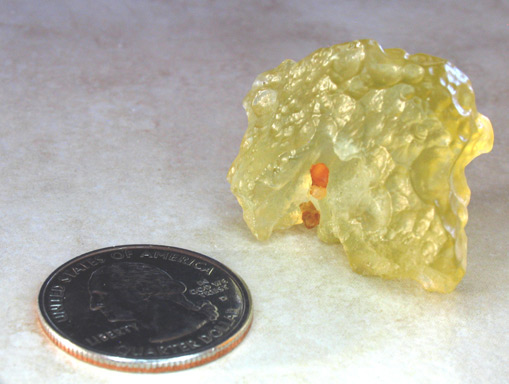 Libyan Glass, wonderful all around in color, shape, natural markings on the outside and a few pebbles still attached and adding color! (vk-10-01e) $120
50 Million Year Old Fossil from Wyoming. The frame measures approx. 7.5x10" and hangs in our West Coast Office. The fish is a Diplomystus, a surface feeder with an upturned mouth and lacy fins. A very fine specimen showing great detail! Chosen by the owner of All That Glitters from many hundreds of pieces of pieces. (pp-10-02) $425
(This is a West Coast Office item and can only be shipped between late October and early April)
50 Million Year Old Fossil from Wyoming. The frame measures approx. 9"x11" and hangs in our West Coast Office. The fish is a Knightia, a herring like fish. This is unique because we have the two halves of the fossil when the rock was broken apart. One can consider this the positive and negative of a fossil. Wonderful detail like the one above. Chosen by the owner of All That Glitters from many hundreds of pieces of pieces. (pp-10-01) $475
(This is a West Coast Office item and can only be shipped between late October and early April)
This beautiful Bronze Thai Buddha Head came from one of the capitals of Thailand (Sukothai) back in the early part of the 1800s. It would have been in a shrine in a wealthy home owner or possibly in a temple. It is quite common to find just heads of statues because it was a common practice to cover solid gold buddha statues with other common material, thus hiding the fact that the statue was gold from those who might be invading the area from neighboring countries. The heads were removed to verify that it was not gold beneath! This piece measures approximately 4" from the bottom to the top of the head. (tem-10-01) $2,100
(This is a West Coast Office item and can only be shipped between late October and early April)
Terra Cotta Head, Tolita-Tumarco C, 500 BC/AD; La Tolita, Ecuador. The head measures approximately 2.5" from the top to the bottom. Just a beautiful piece that we could not pass up. Custom stand is included in sale. (prmgns-10-01) $875
(This is a West Coast Office item and can only be shipped between late October and early April)
This nice piece came from a dealer in Belgium that we have dealt with for decades. As can be seen in the above label, it is Aztec, from Coatlinchan and looks as if it found its way into a collection/museum back in 1955. We haven't had an Aztec piece in the past, so wanted to offer this to our customers to collect antiquities. (prmgns-10-02) $875
Note: Magnification and bright lighting is required to photograph gemstones. Some inclusions may be visible under these circumstances. You are viewing photographs as if you were using a loupe or microscope - not your unaided eye. Under normal conditions, these inclusions may not be visible.
Not responsible for mismatches of prices, photos, stocknumbers, etc.
<! code to insert on Photos Pages and others, where one wants the Payment Info/Intent to Purchase Form to appear -->
Buy Now Using the Following Options:
Effective in 2021, after 20 Years with PayPal, we no longer accept payment through PayPal due to issues encountered with this company. We continue to utilize Personal and Bank Checks, Square, popmoney, Wise, Wire Transfers and other services/applications. We are currently seeking other options to PayPal which would be similar, more reliable, safe and user friendly.

Contact us via Phone, Email or use our Intent To Purchase Form to discuss payment. Square, Popmoney and Wise links are below. Square is similar to PayPal, but an account is not required; Popmoney is bank/bank, account to account; Wise (formerly Transferwise) is typically for International Transactions/Foregin Currency but also works within the United States.

NOTE - If PayPal is absolutely necessary, we can provide an invoice or have funds sent to a PayPal account we have access to. There will be a 3% charge for this service, which PayPal charges - regardless of whether the item is returned. This is PayPal's mandate as of October 2019 - the only payment application that we are aware of that will not return their fee if an item is returned....

Purchase using Square:
Learn More by clicking on the logo!  
Purchase using Popmoney:
Learn More by clicking on the logo!  
Purchase using Wise:
Learn More by clicking on the logo!  

For purchases using another form of payment, please use our
Intent to Purchase Form.
You may also telephone or send an email: Contact All That Glitters