Other Items
Fossil Sharks Tooth WITH Serrations! This is an American piece but found abroad while traveling. We thought this a special piece because most teeth do not have the serrations. The top photo is the front of the tooth and the bottom photo is of the back. It measures approximately over 1" from top to bottom as well as from side to side when measured across the root of the tooth. One can see some striations on the front and in the very center. This looks as if another shark might have bitten and scraped the tooth because the lines are parallel - perhaps the shark was being eatten by another shark! (btgem-11-02) $125
Weighing in at an amazing

1,563cts

,

this piece of multi-colored Burmese Jade was sculpted into a marvelous lizard. We particularly liked the banded feature of this piece as it is truly reminiscent of some lizards. Difficult to find good carving material and the price of carving has gone up tremendously! (btgem-11-01) $2,495
Camille the Two-Toned Burmese Jade Chameleon - Currently All That Glitters Mascot!
This unique, well executed Jade Carving originates where fine Jade is to be found - Burma. It is two-toned and this natural aspect of the natural material has been expertly integrated into a Burmese Chameleon weighing approximately 317cts of Jade! Our new mascot will probably not be around too long, and some might even say that it is endangered. Some astute collector of Jade, the unique, chameleons, jewelry store, etc. will see this and add it to their collection. This is the first carving that we felt was of high quality and not overly priced - and we have been looking for items of quality and distinction for over 20 years! We honestly do not have a feel for pricing such an item which was intricately carved over many hours or the price of this interesting two-tone 317cts of Jade, but we are basing the price on our cost. We really don't want to part with Camille, but if she finds a better home, we will let her go and only hope that we can find some of her relatives..... (chapr-05-01) $4,275 Interesting facts about Camille - she weighs 317cts!!! Her overall length is approximately 3 inches and her height is about 2 inches. She has been photographed for a magazine article which can be accessed via the link below. Not too many have the opportunity to own an item that was seen in a magazine around the world! (Not to mention, it is Genuine Natural Jade too!)

As seen in Cedar WIngs Magazine

Cedar Wings Article

*** Click on any of the images above for a larger view! ***
These BRASS counter weight cups were used for the weighing of gold probably in the late 1800s or so. They came from Nevada and represent two different sets of cups. The large one is 16 troy ounces, with the 8 ounce and 4 ounce nested as shown above. (Quite heavy as the largest cup is 16 ounces, otherwise known as 1 pound!) The smaller set is 2 troy ounces with a nested 1 ounce and 1/2 ounce. Unique pieces used in the gold days and very collectible. We have another set of of gold counter balance cups that is intact and has a cover - said to have been recovered from a Spanish Galleon that went down back in the 1500s. These US (Nevada) pieces are not as old and very affordable. Makes a great conversation piece for a curio cabinet or as a paperweight on a desk. You could nest the smaller ones in the larger one, but because they were not custom made together, the smaller set doesn't sit flush with the larger nested cups and will sit above the other nested cups by about 1/4 inch. These old time weighing cups still show the filing marks on the bottom where the maker of the set had to remove some of the metal to insure the accuracy of each of the cups. The large set is $150 and the small set is $75. They can both be purchased for only $200.
Detail
89+ct Crazy Lace Agate Cab (Chihauha, Mexico) Approx 59x36mm (eds-11-01) $225 (only $2.51/ct!)
Detail

46+ct Priddy Plume Agate (Oregon) Approx 35x27mm (eds-11-01) $275 (Only $5.94 per Carat!)

Comes with a Hand-Made Wooden Stand!
Left Side
Right Side
Front View
Bottom
This one-of-a-kind piece was carved from a piece of fossilized wood (agatized) found in Nevada. Expertly sculpted it depicts a mother octopus guarding her young which are still in the egg sacs. Measures approximately 3"x2"x1.75" ( rstvn-11c-01) $1,675
Available for shipment from our

West Coast Office

only
A wonderful piece of art and antiquity. Signed by the artist. Purchased decades ago. $2,175
A wonderful piece of art and antiquity. Signed by the artist. Purchased decades ago. The back has more of these holes, which most likely were made to make fire. $2,375
Both of these pieces are featured in:
Gemstones - Understanding, Identifying and Buying, by Keith Wallis
People have been requesting more of the Fordite we purchased a number of years ago. We encountered it by mistake and thought it was fascinating and beautiful, plus part of history. The supply is limited and when it is depleted, that will be the end of it. This material has come from the walls of the Ford company in the US and UK. When Ford sprayed their automobiles, the layers of paint would adhere to the walls. Over many years, this built up and had to be removed. It has hardened over the decades and with experience, one can remove the layers to release the inner beauty related to the colors of vehicles that were painted in the 1950s and 1960s. Since the process for painting has changed, this material will no longer be created, so it is truly a very limited supply. Again, All That Glitters was fortunate to find a person who had some of this material stashed away for decades. The owner of All That Glitters chose the best colors and designs. All of this material has some metallic paint, so it may glitter - this is actually what you want to see! From another individual, we did see one piece of the material at a good price, but it didn't look right - it did not have the layers that we expected, nor did it have the metallic paint. Think it was meant to deceive and to fool the unsuspecting into thinking that it was Fordite. Our previous pieces of this material were sold to someone who makes jewelry. This material is great for that purpose, as well as historians, car buffs or for those who desire to own a piece of Ford History. Our last parcel that sold several years ago was also photographed for a book on gemstones, and this odditiy was included:
Previous All That Glitters Fordite Inventory Photographed for a Book on Gemstones! Note that both sides of these pieces have very different designs and colors most of the time. The pieces typically contain some metallic paint, so that it will sparkle in the sun or under lights, just like the original paint on the car! We photographed the side that we liked best.
May 2016 - GIA has just published an article on Fordite in this Summer 2016 Edition of Gems & Gemology Magazine.
Read More: GIA Fordite Article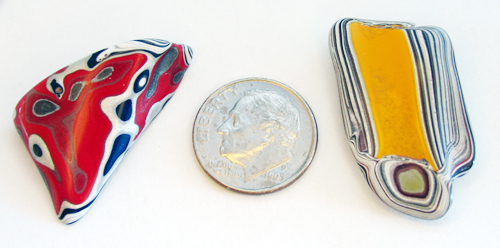 A and B
C and D
A - Fordite (lic-11-01a) $100
B - Fordite (lic-11-01b) $80
C - Fordite (lic-11-01c) $80
D - Fordite (lic-11-01d) $80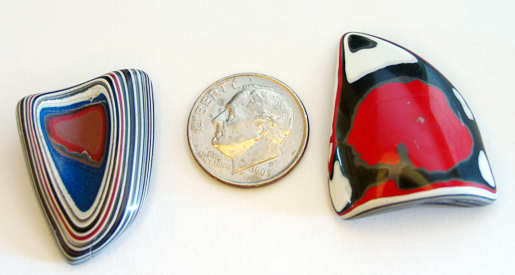 E and F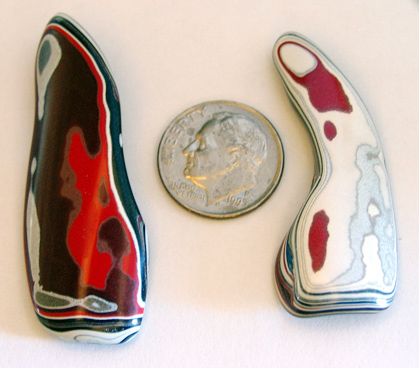 G and H
E- Fordite (lic-11-01e) $60
F - Fordite (lic-11-01f) $80
G - Fordite (lic-11-01g) $100
H - Fordite (lic-11-01h) $100
Note: Magnification and bright lighting is required to photograph gemstones. Some inclusions may be visible under these circumstances. You are viewing photographs as if you were using a loupe - not your unaided eye. Under normal conditions, these inclusions may not be visible.
Not responsible for mismatches of prices, photos, stocknumbers, etc.
Buy Now using your PayPal account:

Purchase using popmoney:
Learn More by clicking on the logo!
Purchase using Transferwise:
Learn More by clicking on the logo!
For purchases using another form of payment, please use our Intent to Purchase Form.
You may also telephone or send an email.