Gemstones - Newly Photographed
Note that those gemstones below are being offered at their Initial Public Offering (IPO) and typically priced to move quickly. Prices may increase on any particular gemstone depending on market conditions and the fact that many of All That Glitters items are One of a Kind...
All That Glitters is known for searching throughout the world for the Finest Gemstones and Rough of high quality and uniqueness. Lower quality material may be be found online or in stores, but few have the exceptional material that we offer the trade and our online customers. Gemstones will only be added to our inventory if color, size, cutting, clarity and price match our strict criteria!
1.40ct Pear Shape Opal with Lots of Life/Color! From the well-known Ethiopian deposit. $420 (vst-14a-02p)
 
After a month of cutting, pre-polishing and polishing, the owner of All That Glitters has completed faceting another interesting Blended Ametrine; this one is an 11.63ct Fancy Oval which is predominately Purple, but with splashes of Yellow/Gold as well as flashes of Bronze! Measures approx 19.3x12.8x10.5mm. (ajml-19-01d) $930
 
When the owner of All That Glitters saw this Topaz, it was a MUST HAVE for inventory. This 3.86ct Cushion comes from the famous Ouro Preto Imperial Topaz deposit in Minas Gerais, Brasil. While traveling in Brasil in the past, the owner of All That Glitters visited Ouro Preto more than once and also had a tour of the gold mine in the adjacent town of Mariana. This particuar Topaz has numerous colors including pink, orange, salmon, champagne, etc. There are a few fine needles deep in the gemstone and this is an indication that the color is natural and not heated. Some of the Topaz from this location will be heated to obtain the much more expensive pink color. In this case, it was decided to leave it entirely natural and with the lovely color as it came out of the ground, there was really no need to consider enhancement of any kind. Depending on the lights, one might see one predominant color over another and under more than one light source, many colors could be seen at the same time! Some of the Topaz from this location will be heated to obtain the much more expensive pink color. In this case, it was decided to leave it entirely natural and with the lovely color as it came out of the ground, there was absolutely no need to consider enhancement of any kind. A fine color, large, brilliant, natural Topaz, it is a pleasure to view this piece for those who like this color and appreciate a fine Topaz. The color has a Padparadscha feel to it and is not the typical yellow or orangy color typically found - that being said, even a nice orange is not common, especially in larger sizes. (ramcam-19-02) $6,562
How Uncommon are the Really Fine Colors of Imperial Topaz?
Well, in 40 years in the business, we have only had a total of 3 exceptional pieces. All three had different colors...
1.) The one pictured above
2.) A Flame Shaped Topaz that was a collaboration with Award Winning Goldsmith Derek Katzenbach, where we created a beautiful pendant with Natural Sapphires that mimiced the colors seen in the Topaz - reds, oranges, yellows, apricots, etc! The pendant was entered in to the AGTA Spectrum Awards in 2018, and was named "Fall in New England". "Inspired by the Changing Leaves and the Masterful Color Display in Nature", the Topaz as well as the 131 multi-colored fall-like colors of the Saphhire is something that must be seen as photos cannot capture the brilliance, sparkle, true colors and magnificence of the piece!
3.) A 7ct Elongated Orange Oval bought in the 1980s and sold years later to Victor Mueller from the Shop at Home TV Show.
Incredible Blue Tourmaline from Brasil - This is what

INDICOLITE

should look like!
2.89ct Oval Blue Tourmaline Oval (vstgm-10-03a) $3,468
Color is reminiscent of our Super Blue Zircon!
The color is incredible!


(A similarly colored matched pair was sold to a dealer in Slovakia for a special project!)
Three very fine opals just back from the cutter. Really nice play of color. Largest one is a tapered oval/modified pear and measures about 12mmx7mm. Rounds are uncommon, but there is one here. The smallest one has some matrix and undercutting in one area on the edge which can be seen if viewed from the side. Setting in a in a bezel or perhaps putting a prong in that area, will resolve the issue. Color is great as is the price. Parcel weighs 2.23cts - $625 (akgje-13-01bp)
Opal is tricky when cutting from the rough and we thought we would obtain two very large and fine pieces. Unfortunately, we got much smaller pieces but still of very fine quality. We lost our shirt as they say on the rough because we didn't obtain the number and size hoped for...but what we did obtain, we are offering at a great price!


Video shot under relatively dim office fluorescent lights and doesn't show these pieces to their best advantage. In fact, the camera is blocking the light right about the Opals! If they look decent under these conditions, imagine what they would look like under proper lights or when being worn in jewelry! Photo was shot under the proper lights.
54.42ct Oval and 4.27ct Oval - rough came from the Famous Cruzeiro Mine. Color is frequently called Ouro Verde (irradiated like most of the fancy colors once sees on the market); these two are a Very Vivid Lemon with a touch of Green. Very bright and lively. The smaller measures approx. 12x9mm and the large one is a whopping 29x21mm! We had these cut from the rough - the cost to facet large gemstones (even Quartz) is quite costly and therefore at the price per carat we are charging, the large piece is really worthwhile... $20 per carat for either gemstone - if you purchase both, Only $15/ct. Contact us and indicate which one(s) you would like. (nevst-05-01bz)
Contact Us
A fairly large nice Pyrite specimen on matrix from Spain. This is only one angle and there are other Pyrite crystals on the other side. A great piece for one's collection! (pdv-15-10) $849
Nice Pyrite Specimens from Spain can be very costly depending on the size of the cubes, the complexity, aesthetic beauty, etc. This specimen was chosen by the owner of All That Glitters after having first pick of a group of fine specimens just in - as he has known those who obtain these piece directly from the mine over the past few decades. This piece was chosen for all the right reasons! If you click on the following link, you can view a similar piece which came up to auction and had a selling estimate of $8,000 - $12,000. As always, we offer you quality at low prices because of our 40 years in the trade, our knowlege and access to items through our contacts, so no need to spend thousands for a Fine Pyrite Specimen from Spain! Of course, the one at auction has a custom lucite stand, which we will gladly have made for you at a great price, and we won't change you an extra $7,000 to $11,000 more.... Pyrite Auction Specimen
People are saying WOW! when they see the photo/video of this wonderful 24.38ct Precision Faceted Ametrine Fancy Oval, completed by the owner of All That Glitters. As is all of our Specialty Ametrine Rough, it is hand selected personally by the mine owner specifically for All That Glitters - and Ok'd via photos and information provided. This particular piece took just under 40 hours in total to complete, not including the approx. 4 hours to capture both the photos and video, do the cropping, compresssion and other things in order to have the images/video appear on this website/online. As someone noted, and this isn't the first time, we can't make our money back on the time spent - though if we have a retail shop and marked it up accordingly, that would be easily possible. We have screen grabs for far more costly Ametrines on a per carat basis, and the saturation of color is lighter and the beauty of the gems is just not there. Selling at a great price for the size, precision cutting, color blending, etc. this is only $1,950 and we will do FREE Shipping and FULL Insurance for a limited time. To make purchasing easy, we have provided a link to this item in our Square account, so payment by credit card can be fast and easy! We typically don't measure gemstones as most stores/goldsmiths work with whatever the dimensions are as they are buying the gemstone based on beauty and not size, but we did measure this and it is approximately 21.7x15.5x14.8mm (ajml-19-01p)
Use the Link Below to Purchase using your credit card via Square/Google Pay...
$1,950 INCLUDING Shipping/Full Insurance via USPS Priority Box
*** BUY NOW! ***
This 7.98ct Precision Cut Amethyst was faceted by the owner of All That Glitters and has a glowing blue and royal purple velvet color. The finest Amethyst available in the trade! This rough was hand selected for that glowing blue which is rare among Amethyst. A wonderful shape for jewelry design. Video and photo still does not capture the color, brilliance, super high mirror-like polish this gemstone exhibits. Bottom measures approx 11mm wide - perfect for a ring, pendant, pin or ??? (afgm-19-01f) $638       ***** Amethyst is the Birthstone for February! *****
Use the Link Below to Purchase using your credit card via Square/Google Pay...
$663 INCLUDING Shipping/Full Insurance via USPS Priority Box
*** BUY NOW! ***
*** Choose a Gemstone from All That Glitters Case #19! ***
How to Read the Above List - It is a matrix; the first item in the list represents the gemstone in the upper left hand corner; the list information goes from left to right in the photo as one moves down the list. Each row has 5 gemstones and there are 3 rows. The location number indicates where in the case that particular gemstone is to be found. For example, location #19/2,3, indicates row 2/column 3 - in this case, it is a Corundum, specifically a Blue Star Star! (#19 is a case/box number)
Unfortunately, the colors do not display as vibrantly as they are in person, nor does one get to see the sparkle/brilliance that these gemstones have. The Cat's Eye Chrysoberyl and Blue Star Sapphire, require overhead lights such as incandescents in order to see their phenomenon properly and to full effect - but they were chosen for their color, clarity and phenomenon when purchased for the inclusion in to the All That Glitters Inventory!
Very large 6.93ct Neony Green Grossular Garnet, faceted in the U.S. from All That Glitters rough, by one of our talented and wonderful cutters. Bright lively gem with hints of dispersion. As expected in this size, there are some small inclusions that can be seen with a loupe, but a plus to indicate natural origin as this large size is not often seen and anything indicating natural crystal growth will be a help in identification. Has a 'glow' which is unexpected for this Garnet Group. Though this comes from the same area as Mint Merelani Garnet (Grossular), a relative of Tsavorite, the brightness and glow is very unlike the typical Mint Merelani as that more common material doesn't necessarily glow like this does. The Garnet Group is very complex and perhaps this has a larger percentage of some element - or perhaps this could even be a new type of Garnet or oddity. This was a difficult gemstone to photograph and to obtain an accurate color. On our laptop monitor, we have an accurate color; with so many devices now displaying images, accurate color is a problem since screens are not calibrated. The photos do not do this gemstone justice as the color is not exactly accurate - there is very little one can do if the photo or video just doesn't show that "pop" that one sees in person. The video color is certainly not close to the color the eye sees - and the true brilliance/sparkle as well as dispersion is not captured, but it goes give an idea of what the gem looks like to some extent. Have recently seen a 1.6+ct round, without the glowing green this gem has, and the retail on it was approximately $2500/ct. A slightly larger than one carat was seen in Tucson (2019) with a wholesale price of $1,500/ct; with this being such a large example of this gemstone species, you will be surprised at our low pricing of $10,349 - which is only $1,500/ct! We would like to increase the price of this as we cannot replace this size, color, cutting, etc. at our current price. (vyg-19-03)
 
While going through our vault, we found this Ruby that had never been photographed though it has been in inventory for a quarter of a century! This is one of a few pieces that we bought from one dealer and the gems had an IGI cert along with a micro-fiche of the cert. Unfortunately, though we were supposed to have received the cert/microfiche after the purchase, we never did receive it. The other pieces were all certed as natural corundum (Ruby) and unheated. The color of this piece is a nice rich red, and some would call it pigeon blood red. Just looking at it screams Ruby if you're familiar with this gemstone. We had hoped to obtain a better photo, but capturing the true color of Ruby has always been difficult, and we just weren't able to take a crisp photo. You have our 100% Satisfaction Guarantee as well as our Life Time Guarantee - which you can find more info on our Policies page. This piece measures approximately 5.22x4.44mm and weighs 0.76cts - so essentially a 3/4ct Ruby. This would make a wonderful ring or pendant. (mcm-96-04) $2,432
A Blue Flash Amethyst weighing 8.61ct and measuring approximately 12mm - faceted by the owner of All That Glitters. Think glowing blue purple velvet, which is the norm for this hand selected rough when we can find it! Perfect size for a man or woman's ring and no problem for a pendant either. Some small inclusions that can be see under the right light and angle on the outside edge - in the video and photo, it under the bottom facets. (afgm-19-01z) $600
 
This 11.45ct Ametrine is a very pleasing pear variant and was faceted by the owner of All That Glitters. As usual, the All That Glitters Ametrine Rough is chosen for the natural unique color variations that can exist in this material and hand chosen by the mine owner per our specifications and destined for All That Glitters. A beautiful mix of Purple, Yellow, Gold, Bronze and Rose. A clean gem but unfortunately, with dust as well as some very small spots of dopping material on the pavilion that can't be see with one's eyes, but in close up photography it can be seen for the time being. ajml-19-01c) $800
 
A nice 18.30ct precision cut fan in Ametrine, faceted by the owner of All That Glitters. A nice size for a pendant or ring and certainly a unique shape. We can easily see this set as a pendant on a string of pearls - and pearls will be in for this year due to the fact that is was noted numerous times that VP Harris was wearing pearls at the inauguration. Barbara Bush was also a fan of pearls and was frequently seen wearing them for many an occasion. One can liven up a string of pearls with color, and this unique shape with flashes of purple, yellow, gold, blush, rose and bronze will certainly do that! (ajml-19-01n) $1,281
 
Stashed away in our vaults and recently found, this 4mm pair of Synthetic Alexandrites is the last of a group that we created/assembled about 20 years ago! Set in 14kt yellow gold with medium sized friction backs (we don't use the small ones as having larger provides not only more ease in putting on and taking off, but more value also).

As noted on our Synthetic Alexandrite Page and can be found online, these same gemstones sell at $495 per carat, but since we purchase the rough directly and have our own cutters, we sell at only $200/ct. This pair of approx 0.66ct Synthetic Alexandrite earrings is at our price of $350 - estimated retail for the gemstones, the gold, the cost to polish/set by a goldsmith is expected to be $670. Another large savings from All That Glitters.... (Color change of these gemstones is similar to the very fine Natural Brasilian Alexandrite - Purple to Teal (Blue Green)) $350

SOLD!
We wanted to share this New Custom Ring just completed (Dec 2020) for a customer whom had purchased a Golden Sapphire in a previous year. The above photos show the CAD/CAM Renderings and the completed piece!
We can do this for your All That Glitters Purchases also!...
Find a mounting in the All That Glitters Jewelers Showcase - see the link immediately below. The mounting/setting can typically be modified for the shape and dimensions of your piece if it isn't already a perfect fit! We can provide dimensions of a particular gemstone currently in stock should you have an interest in perusing to see the settings available. We can also recommend and provide advice if necessary - we have been at this for 40 years now as of 2021!!!
We can also custom design a piece to your specifications and desires. What are you waiting for?


The All That Glitters' Jewelers Showcase
Oregon Sunstone, Hand Grooved in the U.S. weighing 5.97cts in an interesting elongated octagon shape. Color is bright orange red to more red under incandescent light. Copper schiller can be seen when at the right angle. A unique piece all around. (demco-20-01b) $1,339
 
A wonderful uniquely shaped Oregon Sunstone weighing 7.61cts, which we would call a Spear Point. Hand Grooved by one of our U.S. Lapidary Experts. Very center is red, going to a more subdued copper, with some green on the outside edge as well as clear. We can see this as a very beautiful custom pendant! (demco-20-01g) $1,712
 
This 16.76ct is the largest faceted/grooved Oregon Sunstone we have had in the All That Glitters inventory in 40 years, and like all of our Oregon Sunstone, it was faceted from All That Glitters hand-chosen rough. Hand Grooved by our U.S. cutter specializing in this cutting style. Color could be described as a cinnamon with orange and red highlights under incandescent light. Has some schiller in the very center and one on the side, as can be seen in the video, but for the most part it is not visible when looking down at the table. (demco-20-01h) $3,352
 
Our second and last Danburite faceted by the owner of All That Glitters, from one crystal. Rough originated in Mexico, which is known for the clear/white variety. Crystal clear, clean as a whistle. A Real Brilliant Sparkler - the colors seen in the photo and video are Dispersion/Fire, a physical property of Danburite that is splitting the white light into its colored components. A large gemstone for this species. Priced at the wholesale price that we found on line. This is the last of the Danburite to be cut. Danburite was named after the town where it was first located/found - Danbury, CT! (atg-20-03) $100/ct
 
5.88ct Columbian Emerald Crystal. Approx 10mm in length. (bgtc-14-02) $425
 
A very attractive group of Quartz coated with Blue Fluorite - from Inner Mongolia. A relatively new find. Click on the first image above for more detail. (crysco-15-01) $450
 
"Fall in New England", Inspired by the Changing Leaves and the Masterful Color Display in Nature.

A Collaboration in Gems, Design, Precious Metal: All That Glitters/Katzenbach Designs



4.30ct Flame Shaped Red-Orange Topaz, Ouro Preto (Minas Gerais, Brasil); AGTA - N


(Topaz includes variations of Orange, Red, Peach and Melon and is
Accented/Enhanced by the Autumnal Colors of the Sapphire Suite)

131 Round Red/Orange/Yellow Sapphire Suite weighing a total of 3.27cts; ATGA - H

18kt Royal Yellow Gold

Comes with an 18" Black Leather Cord with 14kt Lobster Claw Clasp
(multi-wired gold chain was damaged in the Spectrum Award judging)

One of the many entries into the

AGTA Spectrum Awards Contest - 2018

!

Price Available Upon Request


AGTA 2018 Spectrum Awards Judging Card
Pendant on Black
CAD-CAM Early Rendering
CAD-CAM Later Rendering
CAD-CAM Rendition - Side View Showing Tiers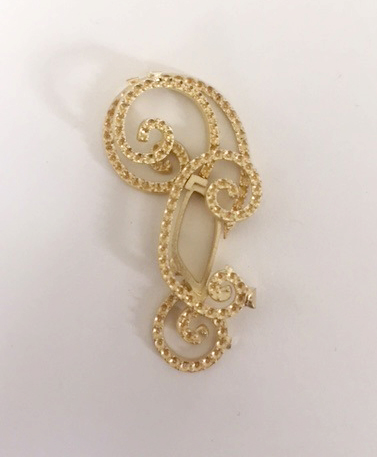 Completed Casting Ready for Gem Setting
43.86ct California Kunzite, Oceanview Mine, Big Kahuna Zone approx late 2010


(3rd gemstone from an unique bi-color crystal!)
A 43.86ct Natural Kunzite from the Oceanview Mine in California, faceted by our Award Winning Supreme Master Gemcutter (Stephen Kotlowski). The color can range from a lilac to pink depending on lights. The cutting style is a one of a kind creation in a kite shape. The optical effects draw the viewer in from the edges to the center in a step like fashion. 23.75x22.55x15.83mm (ovml-12-03c) $200/ct
The above price is the wholesale price seen in Tucson 2012 at the GJX Show, International Section, by Brasilians selling a fairly deep pink Kunzite faceted (as well as in the rough). Their material was irradiated - our California Kunzite is entirely natural!

The All That Glitters Kunzite has:
better color in this size
is Natural - not irradiated
will save the buyer about $8,000 based on a 60ct sized Brasilian gemstone required to give the same depth of color
is from the United States having come from a famous California mine
from a rich well know pocket within the above mine
was faceted by our Award Winning Master Cutter (Stephen Kotlowski) where every facet junction meets perfectly
A 12.79ct Synthetic Alexandrite in a design called - Capital Dome, and faceted by the owner of All That Glitters. This design has a nice facet arrangement especially on the crown and is very brilliant, catching even low level light. Created with a thicker girdle on this particular one. A sparkler with a high polish, showing a body color of purple in diffused daylight, with flashes of teal and peach; under fluorescent light, one sees a variation of purple/pink with highlights of peach. Fingerprint inclusion on one side, but have only seen it under bright illumination and under magnification - doesn't affect anything. Unforunately, the camera cannot capture all the various colors or the brilliance/sparkle that the eye sees.
Priced about 80% below the retail price of Syn Alex (which iss $495/ct from the major supplier in the U.S.), as we sell at the best price possible, purchase the costly rough directly from the lab which grows it (a 6 month timeframe?) and the owner of All That Glitters performs the custom faceting or it is sent out to be faceted by other competent facetors. This is the only synthetic that we carry as stores really find that the public enjoys this interesting/fascinating material!
Second photo shows the first set of pavilion facets as well as the girdle facets having been completed. (Total number of facets for this design is 81; by the time it is completed, the cutter has visited and worked on 400 facets, roughing it in, going to finer laps, pre-polish, final polish, etc.) (atg-20-01) $1598
 
Finished and off the dop, a 8.66ct Danburite, faceted by the owner of All That Glitters. Rough originated in Mexico, which is known for the clear/white variety. Crystal clear, clean as a whistle. Photos show the trimmed crystal on the dop as well as starting to put in the pavilion facets where a wonderful snowflake etching could be seen and is highlighted in the last photo. Enjoy! (atg-20-02) $650 including Shipping/Full Insurance.


(Yes, from the info above as well as the fact that this was faceted in the U.S., the price is a give-a-way for such a large, water clear, clean beautiful Danburite!!!! All That Glitters Pricing Below Wholesale as Usual!) Pricing was found online.


We have matched pair of clear Danburites, concave cut, purchased a number of years back while traveling abroad buying rough/gems. They were the first Danburites All That Glitters purchased in our 40 year history. Many of our cutter friends had mentioned how lively the material can be and how popular it was amongst some...)
 
Sharing a Custom Made Pendant that All That Glitters had been creating over the past few months. Customer had bought a custom Aquamarine from us, faceted in the U.S. from All That Glitters rough. Pendant is 14kt white gold, rhodium plated, with numerous diamonds (50)! Design was chosen for an Art Deco look for someone who attends re-enactments of that time period. Photos show the actual piece as well as the CAD rendering which the customer OK'd prior to continuing to manufacture/set the piece.


Yes! We do custom work, saving you approx 30-50% off expected similar work...
Note: Magnification and bright lighting is required to photograph gemstones. Some inclusions may be visible under these circumstances. You are viewing photographs as if you were using a loupe or microscope - not your unaided eye. Under normal conditions, these inclusions may not be visible.
Not responsible for mismatches of prices, photos, stocknumbers, etc.
<! code to insert on Photos Pages and others, where one wants the Payment Info/Intent to Purchase Form to appear -->
Buy Now Using the Following Options:
Effective in 2021, after 20 Years with PayPal, we no longer accept payment through PayPal due to issues encountered with this company. We continue to utilize Personal and Bank Checks, popmoney, TransferWise, Wire Transfers and other services/applications. We are currently seeking other options to PayPal which would be similar, more reliable, safe and user friendly. We have added Square to our payment possibilities.
Contact us via Phone, Email or use our Intent To Purchase Form to discuss payment. Square, Popmoney and TransferWise links are below. Square is similar to PayPal, but an account is not required; Popmoney is bank/bank, account to account; TransferWise is typically for International Transactions/Foregin Currency but also works within the United States.
NOTE - If PayPal is absolutely necessary, we can provide an invoice or have funds sent to a PayPal account we have access to. There will be a 3% charge for this service, which PayPal charges - regardless of whether the item is returned. This is PayPal's mandate as of October 2019 - the only payment application that we are aware of that will not return their fee if an item is returned....

Purchase using Square:
Learn More by clicking on the logo!  
Purchase using Popmoney:
Learn More by clicking on the logo!  
Purchase using Transferwise:
Learn More by clicking on the logo!  
For purchases using another form of payment, please use our
Intent to Purchase Form.
You may also telephone or send an email: Contact All That Glitters