Gemstones - Newly Photographed
Note that those gemstones below are being offered at their Initial Public Offering (IPO) and typically priced to move quickly. Prices may increase on any particular gemstone depending on market conditions and the fact that many of All That Glitters items are One of a Kind...
All That Glitters is known for searching throughout the world for the Finest Gemstones and Rough of high quality and uniqueness. Lower quality material may be be found online or in stores, but few have the exceptional material that we offer the trade and our online customers. Gemstones will only be added to our inventory if color, size, cutting, clarity and price match our strict criteria!
*** Unannounced Special! Save $50 -- Only $300 until February 2021! ***
Stashed away in our vaults and recently found, this 4mm pair of Synthetic Alexandrites is the last of a group that we created/assembled about 20 years ago! Set in 14kt yellow gold with medium sized friction backs (we don't use the small ones as having larger provides not only more ease in putting on and taking off, but more value also).

As noted on our Synthetic Alexandrite Page and can be found online, these same gemstones sell at $495 per carat, but since we purchase the rough directly and have our own cutters, we sell at only $200/ct. This pair of approx 0.66ct Synthetic Alexandrite earrings is at our price of $350 - estimated retail for the gemstones, the gold, the cost to polish/set by a goldsmith is expected to be $670. Another large savings from All That Glitters.... (Color change of these gemstones is similar to the very fine Natural Brasilian Alexandrite - Purple to Teal (Blue Green)) $350
Wonderfully Naturally Etched Seymchan Meteorite Cube!
(All Sides with Beautiful Etching!)
We are always on the lookout for Meteorite Cubes - the larger the better and to find a perfect cube is difficult. The larger they are, the more potential issues. We have done well in the past at auction with these, as they sell for more at auction than on our website! (Larger International Audience specifically seeking items like this) The previous cubes were from a Swedish Meteorite but this from the Russian Seymchan Meteorite and when we saw the metallic lustre as well as the beautiful etching, and the fact that the cube was perfect without defects, had to negotiate a deal with the owner to add to the All That Glitters inventory. This piece measures approx: 3.2cm and weighs approx: 253 Grams (dclkvk-20-01a) $3,200
To Learn More about this specific Meteorite: Seymchan Meteorite
Wonderful 20+Million Year Old Dominican Amber with Spider (Hymenaea protera Oligocene) and Other Insect. (Large Spider legs(?) also present!) Measures Approx: 1.47 x 0.53 x 0.69 inches (ai-20-01b) $750
Close Up - Spider
Close Up - Other Insect
We wanted to share this New Custom Ring just completed (Dec 2020) for a customer whom had purchased a Golden Sapphire in a previous year. The above photos show the CAD/CAM Renderings and the completed piece!
We can do this for your All That Glitters Purchases also!...
Find a mounting in the All That Glitters Jewelers Showcase - see the link immediately below. The mounting/setting can typically be modified for the shape and dimensions of your piece if it isn't already a perfect fit! We can provide dimensions of a particular gemstone currently in stock should you have an interest in perusing to see the settings available. We can also recommend and provide advice if necessary - we have been at this for 40 years now as of 2021!!!
We can also custom design a piece to your specifications and desires. What are you waiting for?


The All That Glitters' Jewelers Showcase
Oregon Sunstone, Hand Grooved in the U.S. weighing 5.97cts in an interesting elongated octagon shape. Color is bright orange red to more red under incandescent light. Copper schiller can be seen when at the right angle. A unique piece all around. (demco-20-01b) $1,339
A wonderful uniquely shaped Oregon Sunstone weighing 7.61cts, which we would call a Spear Point. Hand Grooved by one of our U.S. Lapidary Experts. Very center is red, going to a more subdued copper, with some green on the outside edge as well as clear. We can see this as a very beautiful custom pendant! (demco-20-01g) $1,712
This 16.76ct is the largest faceted/grooved Oregon Sunstone we have had in the All That Glitters inventory in 40 years, and like all of our Oregon Sunstone, it was faceted from All That Glitters hand-chosen rough. Hand Grooved by our U.S. cutter specializing in this cutting style. Color could be described as a cinnamon with orange and red highlights under incandescent light. Has some schiller in the very center and one on the side, as can be seen in the video, but for the most part it is not visible when looking down at the table. (demco-20-01h) $3,352
Our second and last Danburite faceted by the owner of All That Glitters, from one crystal. Rough originated in Mexico, which is known for the clear/white variety. Crystal clear, clean as a whistle. A Real Brilliant Sparkler - the colors seen in the photo and video are Dispersion/Fire, a physical property of Danburite that is splitting the white light into its colored components. A large gemstone for this species. Priced at the wholesale price that we found on line. This is the last of the Danburite to be cut. Danburite was named after the town where it was first located/found - Danbury, CT! (atg-20-03) $100/ct
5.88ct Columbian Emerald Crystal. Approx 10mm in length. (bgtc-14-02) $425
A very attractive group of Quartz coated with Blue Fluorite - from Inner Mongolia. A relatively new find. Click on the first image above for more detail. (crysco-15-01) $450
"Fall in New England", Inspired by the Changing Leaves and the Masterful Color Display in Nature.

A Collaboration in Gems, Design, Precious Metal: All That Glitters/Katzenbach Designs



4.30ct Flame Shaped Red-Orange Topaz, Ouro Preto (Minas Gerais, Brasil); AGTA - N


(Topaz includes variations of Orange, Red, Peach and Melon and is
Accented/Enhanced by the Autumnal Colors of the Sapphire Suite)

131 Round Red/Orange/Yellow Sapphire Suite weighing a total of 3.27cts; ATGA - H

18kt Royal Yellow Gold

Comes with an 18" Black Leather Cord with 14kt Lobster Claw Clasp
(multi-wired gold chain was damaged in the Spectrum Award judging)

One of the many entries into the

AGTA Spectrum Awards Contest - 2018

!

Price Available Upon Request


AGTA 2018 Spectrum Awards Judging Card
Pendant on Black
CAD-CAM Early Rendering
CAD-CAM Later Rendering
CAD-CAM Rendition - Side View Showing Tiers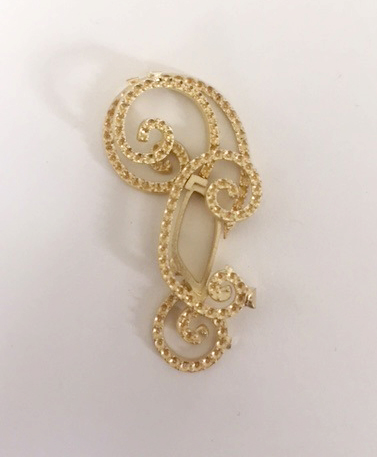 Completed Casting Ready for Gem Setting
43.86ct California Kunzite, Oceanview Mine, Big Kahuna Zone approx late 2010


(3rd gemstone from an unique bi-color crystal!)
A 43.86ct Natural Kunzite from the Oceanview Mine in California, faceted by our Award Winning Supreme Master Gemcutter (Stephen Kotlowski). The color can range from a lilac to pink depending on lights. The cutting style is a one of a kind creation in a kite shape. The optical effects draw the viewer in from the edges to the center in a step like fashion. 23.75x22.55x15.83mm (ovml-12-03c) $200/ct
The above price is the wholesale price seen in Tucson 2012 at the GJX Show, International Section, by Brasilians selling a fairly deep pink Kunzite faceted (as well as in the rough). Their material was irradiated - our California Kunzite is entirely natural!

The All That Glitters Kunzite has:
better color in this size
is Natural - not irradiated
will save the buyer about $8,000 based on a 60ct sized Brasilian gemstone required to give the same depth of color
is from the United States having come from a famous California mine
from a rich well know pocket within the above mine
was faceted by our Award Winning Master Cutter (Stephen Kotlowski) where every facet junction meets perfectly
A 12.79ct Synthetic Alexandrite in a design called - Capital Dome, and faceted by the owner of All That Glitters. This design has a nice facet arrangement especially on the crown and is very brilliant, catching even low level light. Created with a thicker girdle on this particular one. A sparkler with a high polish, showing a body color of purple in diffused daylight, with flashes of teal and peach; under fluorescent light, one sees a variation of purple/pink with highlights of peach. Fingerprint inclusion on one side, but have only seen it under bright illumination and under magnification - doesn't affect anything. Unforunately, the camera cannot capture all the various colors or the brilliance/sparkle that the eye sees.
Priced about 80% below the retail price of Syn Alex (which iss $495/ct from the major supplier in the U.S.), as we sell at the best price possible, purchase the costly rough directly from the lab which grows it (a 6 month timeframe?) and the owner of All That Glitters performs the custom faceting or it is sent out to be faceted by other competent facetors. This is the only synthetic that we carry as stores really find that the public enjoys this interesting/fascinating material!
Second photo shows the first set of pavilion facets as well as the girdle facets having been completed. (Total number of facets for this design is 81; by the time it is completed, the cutter has visited and worked on 400 facets, roughing it in, going to finer laps, pre-polish, final polish, etc.) (atg-20-01) $1598
Finished and off the dop, a 8.66ct Danburite, faceted by the owner of All That Glitters. Rough originated in Mexico, which is known for the clear/white variety. Crystal clear, clean as a whistle. Photos show the trimmed crystal on the dop as well as starting to put in the pavilion facets where a wonderful snowflake etching could be seen and is highlighted in the last photo. Enjoy! (atg-20-02) $650 including Shipping/Full Insurance.


(Yes, from the info above as well as the fact that this was faceted in the U.S., the price is a give-a-way for such a large, water clear, clean beautiful Danburite!!!! All That Glitters Pricing Below Wholesale as Usual!) Pricing was found online.


We have matched pair of clear Danburites, concave cut, purchased a number of years back while traveling abroad buying rough/gems. They were the first Danburites All That Glitters purchased in our 40 year history. Many of our cutter friends had mentioned how lively the material can be and how popular it was amongst some...)
Sharing a Custom Made Pendant that All That Glitters had been creating over the past few months. Customer had bought a custom Aquamarine from us, faceted in the U.S. from All That Glitters rough. Pendant is 14kt white gold, rhodium plated, with numerous diamonds (50)! Design was chosen for an Art Deco look for someone who attends re-enactments of that time period. Photos show the actual piece as well as the CAD rendering which the customer OK'd prior to continuing to manufacture/set the piece.


Yes! We do custom work, saving you approx 30-50% off expected similar work...
Note: Magnification and bright lighting is required to photograph gemstones. Some inclusions may be visible under these circumstances. You are viewing photographs as if you were using a loupe - not your unaided eye. Under normal conditions, these inclusions may not be visible.
Not responsible for mismatches of prices, photos, stocknumbers, etc.
Buy Now using your PayPal account:

Purchase using popmoney:
Learn More by clicking on the logo!
Purchase using Transferwise:
Learn More by clicking on the logo!
For purchases using another form of payment, please use our Intent to Purchase Form.
You may also telephone or send an email.