Gemstones - Newly Photographed
Note that those gemstones below are being offered at their Initial Public Offering (IPO) and typically priced to move quickly. Prices may increase on any particular gemstone depending on market conditions and the fact that many of All That Glitters items are One of a Kind...
All That Glitters is known for searching throughout the world for the Finest Gemstones and Rough of high quality and uniqueness. Lower quality material may be be found online or in stores, but few have the exceptional material that we offer the trade and our online customers. Gemstones will only be added to our inventory if color, size, cutting, clarity and price match our strict criteria!
We have some absolutely very unique, beautiful, rare, one-of-kind and important new pieces available in our inventory - some very large for their gem species. We have based our pricing on what we paid as well as used The Guide (2014 wholesale pricing) to be as close to those prices as possible, if not below, depending on what category one feels the gemstone should fall into with respect to the matrix that appears in The Guide.
Pricing determined by our cost and using The Guide (Nov/Dec 2014 - a wholesale price list). Most gemstones fall well within wholesale pricing as shown in The Guide. Prices subject to change without notice. Note that since 2014, fine gemstones have increased dramatically in price.
A 34.52ct Cushion Cut Ametrine, faceted from All That Glitters hand-picked specialty rough, by one of our US cutters. This ametrine is slightly more saturated then previous ones, and should easily find a new home. (ajml-16a-01a)

SOLD!




We knew this would sell to a jewelry designer/manufacturer immediately when he was advised of this new piece back from the cutter. We put it up for sale for approximately two weeks on our website for others to perhaps become the proud new owner. After two weeks, we sent that person an email with the description and photo, and it was requested to be sent out..."Got the stone. It's lovely. " Could be still available, but will be perhaps 3X the original price!
An Incredible UNHEATED LARGE RUBY weighing 5.67cts!!
Many gemstones (Sapphire, Ruby, Tourmaline, Aquamarine, Tanzanite and others) are routinely heated. This partciular Ruby is Unheated and well cut with no blemishes on the surface due to voids, scratches, etc. - also unusual in most Ruby/Sapphire unless faceted in the U.S. This is a very fine large Ruby and a very important gemstone, something that has taken us four decades to find in our travels abroad and was thought to be very worthwhile to have in inventory.

Color is always difficult to capture correctly and even attempts to correct color can fail as the camera doesn't capture the color the eye sees. Then there is color rendering on various mobile devices which adds another layer and possiblity of incorrect color display. The color as described by GIA is Purplish Red. Depending on the lights one sees magenta (or purplish) body color but also red - all dependent on the lights available and the wavelengths found in those lights. This is one of those gemstones that one has to be seen in person, as that way the color is correct for one's vision/color perception, one can appreciate the cutting, brilliance, polish, sparkle etc. in real time as the gem is tilted, producing life, sparkle and various colors. A nicely cut, better than eye clean, 5.67ct GIA Certed Ruby, that is Unheated...very uncommon indeed.

Origin is the land/country of Sapphires and Rubies...Ceylon. The most costly Rubies have been from Burma, with a fine red color, unheated and frequently seen as being sleepy due to fine inclusions. The Graff Ruby - an 8.62 carat Mogok Burmese Ruby set in a Diamond Ring, by Graff, sold for $8,600,410 ($997,727 per carat - Sotheby's Geneva, November 2014).

The All That Glitters 5.67ct Purplish Red Ruby, very clean, well cut, unheated gem is not exactly in the same category as the Graff Ruby, but it is in a category of its own as gems like this are just tyically not seen on the market.
(Yes, we have a nice selection of Fine Burmese Rubies also!)

Measures approximately 11.71 x 8.92 x 6.75mm (essentially a 12x9mm) (egaj-15-54) Price Upon Request.


GIA Cert
Gem/Mineral Photograper Jeff Scovil Photographs All That Glitters LARGE Ruby!
The talented Gemstone/Mineral Photographer Jeffrey A. Scovil at the Big E in Springfield, MA (08/10/18) photographing our incredible 5.67ct, GIA Certified UNHEATED Purple Red Ruby. Incredible size, cutting, clarity, etc. One of the most important gems in our 37+ year inventory! See image above.
40+ct U.S. Faceted Ametrine from All That Glitters Custom Rough
This 40.24ct custom cut U.S. faceted Ametrine measures approximately 26.2x18.9x14.5mm. The yellow/purple (citrine/amethyst) are uniquely separated in some areas as well as blended in others, creating some unique and beautiful patterns as the gemstone is tilted/worn. The first photo was shot under fluorescent lights using a light ring which allows brilliance and sparkle, and is just slightly off angle. The second photo (courtesy of Troy Richardson) was shot with no light ring and therefore shows more color than sparkle. (ajml-16b-01h)

The cutter had the following to say after seeing the results of his work - "A whopper. A beauty. Possibly the best Ametrine I've ever done..."

Contact us for pricing.
4.18ct US Faceted Square Umbalite Garnet. Three distinct colors depending on the available lights - under fluorescent it appears a burgundy wine and doesn't have much life, but under incandescent or diffused daylight or other lights, it dances. Incandescent shows the color as a vivid ruby red and under other lights such as diffused a light that has more blue wavelength, the color is magenta. Cutter is learning how to facet and there was a natural part of the garnet crystal which was left as it wouldn't affect any side, but it actually fell on one of the corners as this was to be more squarish with fancy pointed corners. A small facet was placed on the corners making this more of a square cushion. We have a decent amount of this rough; we are promoting the cutter, so we are selling this piece and similar pieces recently cut at very low prices! (eagt-18-01d) $418

Under Consideration (TC) - Contact Us if Interested
4.30 carat US Faceted Square Umbalite Garnet. Three distinct colors depending on the available lights - under fluorescent it appears a Burgundy wine and doesn't have much life, but under incandescent or diffused daylight or other lights, it dances. Incandescent shows the color as a vivid ruby red and under other lights such as diffused a light that has more blue wavelength, the color is magenta. Polish is 100,000 diamond, and therefore the mirror like finish reflects beautifully and adds to the look of the gemstone in addition to the internal brilliance. The tweezers are reflecting off of the facets due to very fine high quality polish. This gemstone was faceted by the owner of All That Glitters. (eagt-18-01b) $430

SOLD!(UK)
Oregon Sunstone (4.60cts) in the Custom Elegante Design!
Faceted by the owner of All That Glitters, this is a custom cut called "Elegante" developed back in about 2004 by the cutter and based on other similar designs, but with a different distinct top and small table. Photo doesn't do the sparkle or color justice. Depending on the lights, it is a lemon yellow to a sort of champange color. There is a splash of pink when looking down the long axis, that also perhaps adds to the color. $500 including shipping/insurance via Priority Box. (dd-atg-18-01)
"Fall in New England", Inspired by the Changing Leaves and the Masterful Color Display in Nature.

A Collaboration in Gems, Design, Precious Metal: All That Glitters/Katzenbach Designs



4.30ct Flame Shaped Red-Orange Topaz, Ouro Preto (Minas Gerais, Brasil); AGTA - N


(Topaz includes variations of Orange, Red, Peach and Melon and is
Accented/Enhanced by the Autumnal Colors of the Sapphire Suite)

131 Round Red/Orange/Yellow Sapphire Suite weighing a total of 3.27cts; ATGA - H

18kt Royal Yellow Gold

Multi-Wire 14kt Yellow Gold Choker, Created by Hand and with a 14kt Barrel Clasp.
(14kt will wear better than 18kt and not bend as easily)
(Choker may be easily removed from the pendant if desired;
comes with an 18" Black Leather Cord with 14kt Lobster Claw Clasp)

One of the many entries into the

AGTA Spectrum Awards Contest - 2018

!

Price Available Upon Request


Wide Shot Showing Custom Chain
CAD-CAM Early Rendering
CAD-CAM Later Rendering
CAD-CAM Rendition - Side View Showing Tiers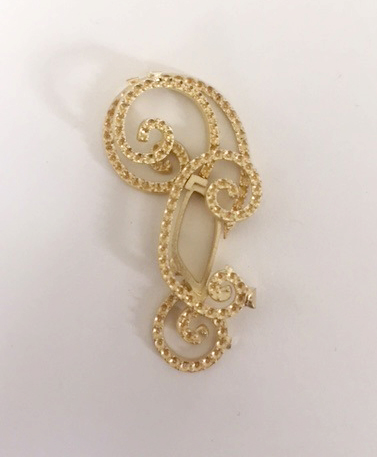 Completed Casting Ready for Gem Setting
Note: Magnification and bright lighting is required to photograph gemstones. Some inclusions may be visible under these circumstances. You are viewing photographs as if you were using a loupe - not your unaided eye. Under normal conditions, these inclusions may not be visible.
Not responsible for mismatches of prices, photos, stocknumbers, etc.
Buy Now using your PayPal account:

Purchase using popmoney:
Learn More by clicking on the logo!
Purchase using Transferwise:
Learn More by clicking on the logo!
For purchases using another form of payment, please use our Intent to Purchase Form.
You may also telephone or send an email.