Gemstones - Color Change or Color Shift Garnet
We have far more Unusual and Rare Color Change Garnets in Inventory that are not photographed below. Refer to our Inventory Lists to see what Color Change Garnets are currently in stock. When in these text files, look under Species: Garnet; Type: Color Change, Color Shift or Alexandrite
Inventory List - Individual Gemstones
Also, visit our web page that discusses Alexandrite-Like Color Change Garnet in more detail:
Alexandrite-Like Color Change Garnet
A very unique color changing/shifting oval Garnet from Madagascar weighing 3.52cts and faceted by our cutters in the U.S. Very difficult to capture the color that the eye sees. Under various lighting conditions, we have seen a beige, smoky orange, pink and all variations in between - and one can see more than one color at a time too! Priced to move at only $1,584, below what one expects to find at the wholesale Tucson Show - especially considering the size, the cutting, the clarity and the unique color shifting nuances! (then-16-05)

ON HOLD!(TC)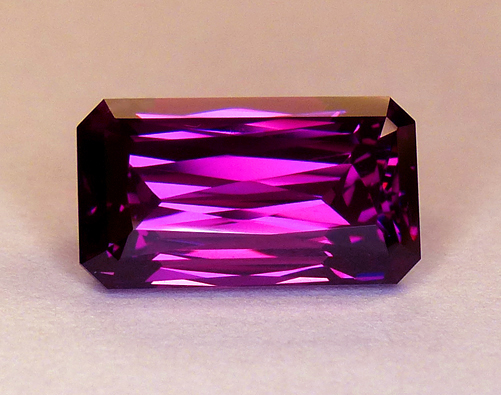 A Wonderfully Fine Colored Large Umbalite Garnet, facetd in the US by one of our cutters. Weighs 12.68cts and has the color expected of an Umbalite, which some call the King of Rhodolites. The color varies from Burgandy, Maroon, Purple and Magenta depending on the lights being used. The color change is very similar to a 7+ct Umbalite we have seen from an exclusive company on the West Coast. Their retail price was $1,100/ct. We posted the photo of this Umbalite on Facebook to share it prior to publication here, and one person in the know thought that the price of this large 12+ct gem would be in the $20,000 range. Thus is the reality today in pricing, where the new find of purple garnet is selling at about $450/ct (wholesale in Tucson 2016). Though our Umbalite is almost twice the size of the 7 ct piece, we are offering it at what we feel is a fair price based on the cost of rough, cutting, beauty, cutting, color, etc. and for the time being, only $550/ct or $6,974. As the size for rare gems increase, the price per carat also goes up, sometimes expotentially. Again, our pricing is based differently, allowing unexpectedly low pricing on most of our gemstones. (then-16-03)
Color Change Garnet (roval) from Africa, goes from blue to purple (cert say blue green to purple, but under our lights we saw more blue). This material is typically dark and finding anything over 1ct that isn't overly dark is difficult. Out of the hundreds we looked at, we liked this one the most. (egaj-15-57)

SOLD!(EW


"I received the stone yesterday and it is beautiful! As I was examining the stone last night, I saw at least five different colors that the stone displays! It is also a very nice blue, just as you said it was...I have looked at the stone in every lighting condition that I can think of (and have on hand) and the stone is pretty in each of them. I am very happy with my purchase, thank you!"
View Cert
Two Fancy Imperial Garnets from Africa. We are not sure what to call this material, as garnets can be comprised of many different elements and may not fall exactly into one garnet group. Many have characteristics of a few groups. There is some color shifting seen under different lights and the pear shape seems to show some red on the ends, like a dichroic gemstone, but garnet is not dichroic, so this is an interesting unique feature.. Whatever garnet group this belongs to, it is unique and we only have two to offer. The two photos above were with slightly different light sources. Under fluorescent lights, we believe that we could call the body color a medium orange with maybe some yellow. However one wants to describe them, we think that most people would say - Beautiful...
1.55ct Oval (minco-08-02a)
2.79ct Pear/Shield (minco-08-02b)
$450/ct
Two Imperial Garnets from Africa photographed under different lighting conditions. In the top photo, the oval had to be modified to show more of the real color. We would call the body color a dusty rose or beige color under fluorescent and under incandescent light, the color turns to more of a pink . This is what we have seen in the past when we have had similar material. Note that this material is not common and can be quite costly. Larger pieces cost more and have the likelihood of having more black platelets. We choose these two pieces from maybe 10 or so pieces. They were chosen for not only color, but for cutting and clarity. They are eye clean and in louping them, we don' recall seeing any black platelets, but if they are hard to find and are there, it indidates natural origin and perhaps even the location from where they were found.
1.95ct Cushion (cf-08-01) $450/ct
2.28ct Oval (cf-08-02)

SOLD!
4.18ct Color Shifting Garnet, dusty beige/rose to bright pinkish red Certified as Rhodolite ; dimensions 9.90x7.68x6.24; Color described as Purple, but we think our description is more accurate (kaek-07-01) $2,508
View Cert
2.12ct Color Changing Garnet
The color change is from a smoky orange to a bright reddish orange dependiing on the lights. This unusual piece is from African. (sco-06a-01) $848
9 pieces, 4.00cts of Color Shifting Garnet - The color is a nice pleasing light organge to orangy brown and under incandcescent lights the color comes alive even more. $800 (eagt-95b-08p)
0.36ct Oval Natural Alexandrite-Like Color Change Garnet
Very nice color change garnet going from an amethyst purple to a green with a hint of blue.


This one is SOLD! But we have others!...
Note that we have a decent amount of this material stashed away from the early 1990's. They range in weights from about 0.14cts up to about 0.75cts. The color change is exactly like Natural Alexandrite.

Please visit our Inventory to see what is available!

Inventory Page

(Visit the Individual or Parcel Gemstone Lists and search for Species = Garnet and where Type contains Alexandrite)
Unique Color Shift/Change Garnet - Madagascar
(Stocknumber: vista-04b-01p)
Unique Color Shift/Change Garnet - Madagascar
We have a small parcel of hand picked color shifting or color change garnet from Madagascar. The color goes from a smoky orange to a bright reddish orange. When more than one light source (both incandescent and fluorescent) is available, one will see numerous colors flashing from the gem. It looks something like a fine Orangy Andalusite. There are a total of 9 pieces totalling 21.80cts - the shapes are ovals, cushions, etc. The price is $450/ct - the average weight is about 2.4cts and therefore, the average price per stone is approximately $1,310 This is something that is unique and it is always unknown how long this material will be available. Don't miss out - you will NOT see these in stores, tv, etc. (but then again, many of our exclusive stones cannot be offered due to their rarity).

(The above example, 2.91cts is

SOLD

but others available -

see below

)
Color Change Garnet - Example seen above. The photos below are with a mix of lights showing off unique colors of this material! $450/ct (vista-04b-01p)

A

B

C

D

A - 1.86ct Square Cushion
B - 2.18ct Oval
C - 2.20ct Oval
D - 2.44ct Oval
Color Change Garnet - Example seen above. The photos below are with a mix of lights showing off unique colors of this material! $450/ct (vista-04b-01p)

A

B

A - 2.69ct Cushion
B - 2.73ct Oval
Color Change Garnets - East Africa - U.S. Faceted This material is from East Africa and has been U.S. Faceted. Some of the stones might have small black platelets but they are usually not eye visible. These inclusions indicate a gemstone of natural origin and since this material is so unique and rare, it is actually better to have them so a gemologist will not initially think this is some sort of a man-made material with very unique properties! The colors displayed depend on what type of light is available. A number of colors may be observed if more than one light source is available. Some of this pieces look similar to Andalusite with bright reds, oranges, green and brown flashes. We do have some similar material to this. You can search our text database/inventory list for these stones: Species = Garnet; Type = Color Change For other color changing Garnets, you can search the inventory list for: Species = Garnet; Type = Alexandrite-Like or Alexandrite or Species = Garnet; Type = Color Shift(ing)
Inventory List - Single Stones
1.32ct Color Shifting Garnet

This particular garnet has more of a color shift, changing from a dusty rose color to vivid red. Origin - Kenya, specifically, Chafeia. Faceted by our cutters from the rough. $330 (eagt-99-01a)
Incandescent

Fluorescent

2.26ct Color Change Garnet, Oval , some small inclusions (eagt-03-02h) $2,300
Incandescent

Fluorescent

2.95ct Color Change Garnet, Oval (EAGT-03-02I) $1,623
2.17ct Color Change Garnet, East Africa, U.S. Cut - $977 Note - the photos do not do the color change justice - not vivid color change, but noticeable, from burnt orange to red.
Visit our other Garnet Inventory Pages to view more photos of the Garnet Group:
Miscellaneous Garnets - not displayed on the pages below
Color Change/Color Shifting Garnet
Spessartite (Orange) Garnet
Demantoid (Green Andradite) Garnet
Tsavorite (Green Grossular) Garnet
Imperial, Imperial Malaya, Champagne or similar
Note: Magnification and bright lighting is required to photograph gemstones. Some inclusions may be visible under these circumstances. You are viewing photographs as if you were using a loupe - not your unaided eye. Under normal conditions, these inclusions may not be visible.
Not responsible for mismatches of prices, photos, stocknumbers, etc.
Buy Now using your PayPal account:

For purchases using another form of payment, please use our Intent to Purchase Form.
Save 1% on your purchase by using popmoney:
Learn More by clicking on the logo!
You may also telephone or send an email.