Gemstones - Padparadscha (Pad) Sapphire
Padparadscha Sapphire, also known as Pad Sapphire, is an orangy-pink/pinkish orange color, and is one of the most rare and sought after colors in Sapphire. At All That Glitters, our goal has been to travel to the known gem producing country of Pad Sapphire (Sri Lanka - formerly Ceylon) to seek out and select the best in color, cutting, clarity and price. Tucson 2016 showed a few dealers who had the occasional Pad in stock, but they were typically what we had seen abroad - extremely shallow, no brilliance, light in saturation/color, eye visible inclusions, all at very high prices. We have chosen only the best available Pads to add to the All That Glitters inventory. All That Glitters Pad Sapphire will be of fine color, decently faceted/brilliant and therefore lively gems, typically eye clean and priced well. We believe that no other businesses can offer similar Padparadschas near the pricing we have established.
Many businesses will claim to have Pad Sapphires, and many small labs (especially abroad), will cert various colors (typically orange) Sapphires as Pads, but the color has to be an orangy-pink or pinkish-orange. Also, from what we have heard when making an inquiry of GIA, it seems that the tone as well as the saturation is taken into account - too light or deep in saturation will be a problem. Pink and Orange due to color zoning vs. true dichroism, would also disqualify the certification of a Pad.
Though we have Pad certs for a number of Sapphires as well as certs indicating the color as orangy-pink or pinkish-orange, we have sent Sapphires that we felt were truly Padparadschas to GIA for final say. So far, we have been 100% successful in chosing what we feel is a Pad and have received a Pad cert back. We have other orangy Sapphires that many would call Pad, and perhaps they would cert out as Pad, but we have not sent them in for certing at the present time.
To quote a small section of an article on Pad Sapphire that we found on-line:

Instantly recognisable for its pinkish-orange colour, the padparadscha is the rarest of all sapphires and arguably the most beautiful. Prices for non-heat-treated stones of a good quality can soar to more than $50,000 per carat, easily rivalling rubies and emeralds of the same size.
Enjoy the photos, information and the low pricing of our beautiful available Padparadscha Sapphires below.
Doubly Certed Padparadscha Sappire Oval weighing 1.19cts. Another wonderful All That Glitters hand-selected Padparadscha Sapphire over 1ct! True Pads are far and few between. Even if one finds the true Pad color, there are typically problems with symmetry, pavillons that are too shallow or extremely deep, color zoning, inclusions or a price that is ridicuously high. Finding and Buying a Fine Padparadscha Sapphire is similar to finding and buying a Fine Alexandrite!.... (awa-18-01)

SOLD! (Canada!)
GIA Cert
EGLab Cert
1.50ct Very Lively Orange Sapphire (Certed). Many people, as well as labs, might call this a Padparadscha Sapphire, but it needs just a hint more pink. It is predominately orange. (awa-17-04) $3,750
View GIA Cert
1.13ct GIA Certed UNHEATED Padparadscha Sapphire (Orange Pink) Photos cannot capture the real color or beauty of this gemstone. (jwlqdi-17-01b) $5,100
View GIA Cert
1.40ct GIA Certed UNHEATED Padparadscha Sapphire (Orange Pink). We did not capture the true color of this gem, and photos on the certs tend not to be very accurate either. Seeing in person is always the way to go....A very nice Pad, with some inclusions which are not visible to the naked eye. The inclusions help to identify it's natural origin as well as the fact that it is Unheated! (jwlqdi-17-01a) $5,640
View GIA Cert
An incredibly beautiful, large, lively and colorful 1.61ct Oval GIA Certed Padparadscha Sapphire. Color is exactly what one expects for a true Pad, a pinkish orange, with the correct saturation without being too light or dark. A neony bright color that gets your attention immediately. A must for someone who wants an outstanding Genuine Padparadscha, certed by a well-respected Gem Lab; therefore, there is no question as to the identity of this particular gem! Unfortunately, the true beauty and color cannot be captured in a photo, but one has a hint of the sparkle/brilliance. (awa-17-01) $10,700
View GIA Cert
0.91ct Oval Sapphire - Pink with Orange Highlights - Certed Padparadscha. . (egaj-15-56) $3,878
View Cert / GIA Cert
1.02ct Unheated Pinkish Orange Oval Sapphire - Pad! (egaj-15-31) $5,758

SOLD!


View Cert / GIA Cert
A
B
A - 1.16ct Pinkish Orange Padparadscha Sapphire (cushion). (kjcl-15a-03) $4,688 - GIA Cert
B - 1.60ct Unheated Pinkish-Orange Oval Padparadscha Sapphire. (egaj-15-59) $11,280 - View Cert / GIA Cert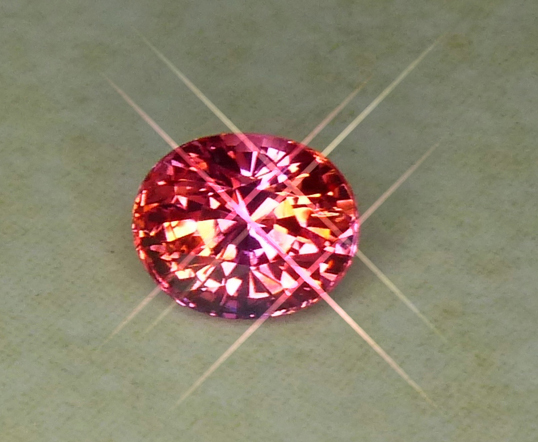 A very beautiful 1.64ct Oval Orangy-Pink Padparadscha Sapphire with lots of brilliance as can be seen in the photo. (kjcl-15a-10) $9,635 - GIA Cert
Unheated Large 2.86ct Oval Orange-Pink Sapphire - Certed as a Padparadscha (GIA). (egaj-15-70)
Price Upon Request.
View Cert
GIA Cert
Large Unheated Orange-Pink GIA Certed Padparadscha 3.52ct Oval Sapphire. (egaj-15-81)
Price Upon Request.
View Cert
GIA Cert
Note: Magnification and bright lighting is required to photograph gemstones. Some inclusions may be visible under these circumstances. You are viewing photographs as if you were using a loupe - not your unaided eye. Under normal conditions, these inclusions may not be visible.
Not responsible for mismatches of prices, photos, stocknumbers, etc.
Buy Now using your PayPal account:

Purchase using popmoney:
Learn More by clicking on the logo!
Purchase using Transferwise:
Learn More by clicking on the logo!
For purchases using another form of payment, please use our Intent to Purchase Form.
You may also telephone or send an email.